Mit diesem Thema kann man sich eigentlich nur die Finger verbrennen, schließlich werden deutsche Horrorfilme besonders kritisch beäugt. Während für die einen der Prophet im eigenen Lande nichts zählt, sind sich andere sicher, dass Deutschland eine gewaltige Filmnation wäre, wenn die Filmförderung in die richtigen Taschen fließen würde.
So oder so, es existieren gute deutsche Horrorfilme, es ist aber kein Geheimnis, dass sie rar sind, weswegen wir uns auch etwas streckten und auf der Suche nicht nur das Thrillergenre einbezogen, sondern hier und da sogar noch etwas weiter gingen.
Wie definiert man aber "deutsch"? Sind WRONG TURN, RESIDENT EVIL oder THE DEVIL'S REJECTS deutsch? Zumindest handelt es sich dabei um deutsche (Co-)Produktionen, aber weder in deutsch, noch in Deutschland, noch von deutschen Regisseuren und Schauspielern gedreht. Da die Abgrenzung mitunter schwierig sein kann, haben wir den Spieß umgedreht und im kompletten deutschsprachigen Raum gesucht, dafür aber als Bedingung gemacht, dass die Filme sowohl sprachlich als auch von ihren Machern klar der Region zuzuordnen sind.
NOSFERATU
Eigentlich ist hier jedes Wort zu viel. NOSFERATU sollte Teil des Deutschunterrichts in der Schule werden. Ein echtes Stück deutscher Kultur (wenn auch auf Vorlage eines irischen Autors) und die Geburt des Vampirfilms. Außerdem waren wenige Vampire je grusliger als Max Schreck.
Ebenfalls sehenswert: Das Remake von 1979 mit Klaus Kinski als Vampir.
ANTIKÖRPER
ANTIKÖRPER ist das deutsche SCHWEIGEN DER LÄMMER. Das kann man nun als Kritik oder Ritterschlag verstehen. Nein, hier gibt es keinen Sir Anthony Hopkins, keine Jodie Foster und das Interview mit einem gefangenen Serienmörder mag man als Abklatsch sehen, aber ANTIKÖRPER ist weit mehr als das. Zunächst ist er deutsch und versucht das nicht zu verbergen, dann spielen Wotan Wilke Möhring und André Hennicke gekonnt gegeneinander an und dass Norman Reedus im Film ist, kann ja auch nicht schaden.
Regisseur Christian Alvert drehte als nächstes FALL 39 und PANDORUM, kehrte dann aber wieder in die Heimat zurück, um zuletzt TSCHILLER: OFF DUTY (uärps) zu veredeln.
DAS EXPERIMENT
Machtmissbrauch ist das Stichwort in DAS EXPERIMENT. Glaubwürdig und doch unterhaltsam wird hier gezeigt, wie schnell "Wächter" ihre Überlegenheit gegenüber "Insassen" zeigen. Regisseur Oliver Hirschbiegel ist der breiten Masse eher für seinen übernächsten Film DER UNTERGANG bekannt, DAS EXPERIMENT ist aber ebenbürtig. Moritz Bleibtreu spielt die Hauptrolle, außerdem dabei: Wotan Wilke Möhring und Christian Berkel.
DAS CABINET DES DR. CALIGARI
Er ist der älteste von allen und die Einflüsse von Theater sind noch deutlich zu sehen. Aber auch die Anzeichen des deutschen Expressionismus. Allzu gruslig ist DAS CABINET DES DR. CALIGARI heute nicht mehr, aber ein Meilenstein der Filmgeschichte ist er geblieben und wer aktuelle Streifen wie BABADOOK ansieht, wird sich womöglich in mancher Hinsicht an deutsche Filme der 20er erinnert fühlen.
ANATOMIE
Ein paar Jahre nach dem international erfolgreichen LOLA RENNT, dreht Franka Potente ANATOMIE, der selbst mit der von SCREAM ausgelösten zweiten Slasher-Welle mitschwimmt, aber seinerseits deutsche Slasher wie FLASHBACK – MÖRDERISCHE FERIEN oder SWIMMING POOL – DER TOD FEIERT MIT vorwärmte. Das interessante daran ist, dass ANATOMIE vergleichsweise weit von der üblichen Slasherformel entfernt bleibt.
Den Fans gefiel es, ANATOMIE war der erfolgreichste deutsche Film des Jahres 2000.
SENNENTUNTSCHI
Vom Titel sollte man sich nicht entmutigen lassen. Der klingt zwar nach Alpen und Edelweiß und das ist auch gar nicht falsch, aber statt idyllischer Bergwelt erwarten den Zuschauer eine Mischung aus Legende, Drama und Horrorfilm. In verschiedenen Handlungs- und Zeitsträngen erzählt, beginnt SENNENTUNTSCHI gemütlich und steigert sich allmählich zu einer stimmigen Geschichte, die nicht versucht international zu sein, sondern im Gegenteil die heimische Schweizer Kultur und Mythologie in den Fokus rückt und genau deswegen überzeugt.
MASKS
MASKS ist nicht makellos. Die Schauspieler lassen zu wünschen übrig, die Story erinnert an SUSPIRIA, alles ist Low Budget. Man kann es aber auch freundlicher ausdrücken, denn Andreas Marschall beweist hier trotz beschränkten finanziellen Mitteln viel Talent und verbeugt sich bewusst vor dem Giallo-Genre. Wichtiger noch, es lässt sich ein eigener Stil erkennen, den Marschall mit Erstling TEARS OF KALI aufbaute und in seinem Beitrag in GERMAN ANGST noch weiter ausbaut.
TATTOO
Wenn ANTIKÖRPER das deutsche SCHWEIGEN DER LÄMMER ist, ist dies das deutsche SIEBEN. Weniger in Bezug auf Handlung, als auf einzelne Elemente wie den Dauerregen, die dunklen Bilder, oder die beiden Bullen, die sich nicht leiden können. Eine mysteriöse Schachtel gibt es nicht, dafür aber einen Kofferraum, dessen Inhalt uns nicht gezeigt wird.
Davon sollte man sich aber nicht abschrecken lassen, denn TATTOO, ein Thriller um einen Serienmörder der seine tätowierten Opfer häutet, hat mit oder ohne derartiger Einflüsse Potential.
Dachte sich wohl auch Hollywood, die Regisseur/Autor Robert Schwentke direkt abwarben.
NEKROMANTIK
NEKROMANTIK ist nun wirklich nicht perfekt. Die Schauspieler sind so schwach, wie in vielen kleinen deutschen Produktionen und ich gehöre nicht zu den Leuten, die beim Schlachten eines Kaninchens zusehen müssen. Fragt man aber Ausländer, welche deutschen Filme sie kennen, wird NEKROMANTIK oft direkt nach NOSFERATU genannt. Sex mit Toten ist für die meisten keine Alternative, wird hier aber eklig UND erotisch dargestellt.
M – EINE STADT JAGT EINEN MÖRDER
Einer der letzten Filme Fritz Langs bevor er nach der Machtergreifung Hitlers das Land verließ und einer der ersten deutschen Tonfilme. Inhaltlich geht es um einen Serienmörder und auch wenn sich das Genre und die komplette Filmewelt in den nächsten Jahrzehnten natürlich änderten, dürfte der Film für diverse Hollywoodstreifen Pate gestanden haben.
Der Film selbst zog seine Inspiration aus realen Fällen von Peter Kürten und Fritz Haarmann.
STEREO
In STEREO spielen Moritz Bleibtreu und Jürgen Vogel stark mit- bzw. gegeneinander an. Vogel gibt dabei einen harmlosen Automechaniker, der plötzlich beginnt einen seltsamen Typen zu sehen…den allerdings auch nur er sieht. Zunächst ist das recht lustig, aber es dauert nicht lange und der Film nimmt eine finstere Wendung.
STEREO ist ein echter Genresprenger, was gerne dafür sorgt, dass ein Film weniger Aufmerksamkeit bekommt als er verdient.
DAS FINSTERE TAL
Von der Genrezuordnung her hätten wir IN 3 TAGEN BIST DU TOT auswählen müssen, bei dem es sich um einen guten Ösi-Slasher handelt, bei dem Regisseur Andreas Prochaskas keine Angst davor hatte, seine Figuren mit Dialekt sprechen zu lassen. Sein DAS FINSTERE TAL ist aber einfach noch ein ganzes Stück besser, geht deutlich weiter und verlegt die Handlung eines blutigen, eiskalten Rachewesterns einfach in die Alpen. Das hätte leicht ins Auge gehen können, ist aber ein echter Volltreffer.
FUNNY GAMES
Durch den österreichischen FUNNY GAMES erarbeitete sich Michael Haneke die Möglichkeit seinen Film fast 1:1 noch einmal als FUNNY GAMES U.S. für den amerikanischen Markt nachzustellen und viele wurden erst dadurch in Europa auf den Regisseur aufmerksam.
Sehenswert sind in jedem Fall beide Versionen des ungewöhnlichen Home Invasion – Thrillers, der die Zuschauer mit ins Boot holt, aufgrund der Ähnlichkeit reicht es aber sich eine davon anzusehen…also warum nicht die deutschsprachige.
DIE TÜR
Kennt irgendwer diesen Film? Vermutlich nicht, deswegen habt ihr was nachzuholen. Der immer wieder gute Mads Mikkelsen und Jessica Schwarz spielen DIE TÜR ein Paar, dessen Tochter im Pool ertrinkt. Jahre später erhält der Vater durch eine Tür in der Vergangenheit die Chance das Geschehene wiedergutzumachen. Oder sollte man die Vergangenheit besser ruhen lassen?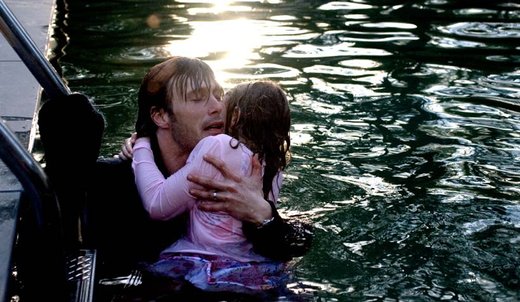 ICH SEH, ICH SEH
Wie gut man ICH SEH, ICH SEH findet, hängt nicht unwesentlich davon ab, wie schnell man dem Geheimnis des Films aus die Schliche kommt. In jedem Fall haben wir es hier mit einem interessanten Projekt zu tun, in dem eine Mutter nach einer OP verändert nach Hause zurückkommt und ihre beiden Söhne daran zweifeln, ob die Frau unter den Gesichtsbandagen wirklich Mama ist.
HELL
Schon aufgrund des doppeldeutigen Titels ist HELL ein Vergnügen, aber auch ein sehenswerter Endzeitfilm mit wachsenden Horroranteilen, in dem zunächst primär die Gefahr der Sonne gezeigt wird, bevor die Protagonisten dann doch feststellen müssen, dass Menschen das größere Übel sind.

Facebook Comments