Bösewichte, die uns Angst einflößen oder durch ihre Mimik und Gestik auf dem Bildschirm einfach umhauen. Jeder von euch hat sicher einen "Lieblingskiller", mit dem ihr vielleicht die Erinnerung an die ersten Genrefilme verbindet oder einfach die Reihe oder den Film an sich feiert. Und so ist es kein Wunder, das immer mehr dieser Kultfiguren den Weg als Tattoo auf die Haut des Fans finden oder aber die Schauspieler hinter diesen Charakteren noch Jahrzehnte nach erscheinen des Films eine treue Fanbase haben.
Namen, die einem sofort in den Kopf schießen, sind Freddy Krueger, Jason Vorhees, Leatherface, Pinhead oder Candyman. Bis heute haben diese Horrorfiguren Kultstatus. Doch welche Horor Villains haben seit beginn des neuen Jahrtausends einen bleibenden Eindruck hinterlassen? In unserer Aufstellung haben wir ein paar neue, alte Bekannte aufgelistet, von denen einige mit Sicherheit nicht so schnell in Vergessenheit geraten werden.
JIGSAW (SAW)
2004 hat Regisseur James Wan zusammen mit Kumpel Leigh Whannell mit SAW einen originellen Genrefilm ins Rennen geschickt und die Horrorliebhaber haben als Dank die Kinos gestürmt. Es war die
Geburtsstunde vom Jigsaw-Mörder, dessen Markenzeichen es ist, Puzzleteile aus der Haut seiner Opfer zu schneiden. Hinter dem Pseudonym steckt John Kramer, ein hochintelligenter Mann, der selbst viel Leid ertragen musste und mit seinen tödlichen Spielen nur ein Ziel hat: Die Menschen sollen ihr Leben wieder zu schätzen wissen und nicht verschwenderisch damit umgehen. Schauspieler Tobin Bell verkörpert John Kramer dabei so glaubhaft, dass er dafür 2009 den Eyegore Award in der Kategorie "Best Villain in a Film Series" bekommen hat.
CREEPER (JEEPERS CREEPERS)
In den ersten paar Minuten könnte man denken, dass es sich bei JEEPERS CREEPERS (2001) um einen Film handelt, bei dem zwei junge Erwachsene auf einer einsamen Landstraße von einem fremden bedrängt werden und es dann mit einem fiesen Katz und Maus Spiel weitergeht. Doch es sollte ganz anders kommen. Der Creeper scheint eine besonders fiese Kreatur zu sein. Nun ja, wenn man nur alle 23 Jahre für 23 Tage auf die Jagd nach Nahrung gehen kann, muss man sich schon das leckerste aussuchen. Und der Creeper erschnuppert sich seine Opfer am liebsten. So wie viele andere Bösewichte, scheint er unverwundbar zu sein. Falls ihm doch mal jemand etwas antun kann, muss sich der Creeper einfach das Körperteil besorgen, das er benötigt. Schauspieler Jonathan Breck hat den Creeper in beiden Filmen gespielt, ob er jedoch für den schon seit längerer Zeit angekündigten JEEPERS CREEPERS 3: CATHEDRAL erneut in sein Kostüm schlüpft, ist nicht bekannt.
PATRICK BATEMAN (AMERICAN PSYCHO)
Vor 13 Jahren erschien mit AMERICAN PSYCHO ein Film, der bis heute eine breite Fangemeinde hat.
Autor Bret Easton Ellis erschuf mit Bateman einen der perversesten und unberechenbarsten Killer der letzten Jahre und Schauspieler Christian Bale hatte mit dem Film seinen großen Durchbruch. Obwohl man eine offensichtliche Abscheu gegen Bateman hat, fiebert man zugleich den ganzen Film über mit. Man empfindet schon fast Mitleid mit dem Manager, der einen Hang zu Hardcore-Pornos hat und in seiner Freizeit Menschen umbringt. Es folgte eine Fortsetzung, in der eine Frau (Mila Kunis) ein weibliches Ebenbild zu Bateman verkörpert. Doch an den Erfolg von AMERICAN PSYCHO kam der Film nie ran.
CHROMESKULL (LAID TO REST)
Bei LAID TO REST und auch beim Nachfolger CHROMESKULL: LAID TO REST 2 gehen die Meinungen extrem auseinander. Die eine Seite kann mit der dünnen Story und dem übertriebenen Schauspiel nicht viel anfangen. Die andere Seite bezeichnet die Filme schon jetzt als Meilenstein der Splatterfilme. Der Grund dafür sind die extrem guten Effekte, die aus der Hand von Regisseur Robert Hall und seiner Special Effects Firma "Almost Human" stammen. Den Rest erledigt der kompromisslose Killer Chromeskull, der sein Gesicht hinter einer Maske aus Chrom versteckt und seine Morde am liebsten mit einer Kamera filmt, die sich auf seiner Schulter befindet. Die ersten beiden Filme sind direkt auf DVD erschienen (bei uns leider nur Cut!) und das Ende von Teil zwei schließt einen weiteren Teil nicht aus. Schauspieler Nick Principe, der mit einer Körpergröße von 2.01 Meter perfekt in die Rolle des stattlichen Chromeskulls passt, ist selbst großer Horrorfan und hat sich die Maske seiner Paraderolle als Tattoo verewigen lassen.
VICTOR CROWLEY (HATCHET)
Regisseur Adam Green erschuf mit HATCHET einen der beliebtesten Genrefilme der letzten Jahre. Schnell
haben die Fans den ulkigen Killer Victor Crowley in ihr Herz geschlossen. Den Rest machten die wirklich guten und lustigen Effekte, die mit sehr viel Kreativität verwirklicht wurden. Der deformierte Crowley wurde als kleiner Junge von seinem Vater versteckt, damit ihn andere Kinder nicht verspotten. Doch eines Tages wollen ein paar Jungen den kleinen Victor aus dem Haus locken und zünden dieses Ausversehen an. Als sein Vater ihn mit einer Axt aus dem brennenden Haus retten will, geschieht leider ein tödliches Unglück. Doch Crowley kehrt zurück und jeder, der seinen Weg kreuzt, muss für Sein leiden und auch das seines Vaters büßen. Kane Hodder spielt in beiden HATCHET Filmen eine Doppelrolle, zum einen verkörpert er (maskiert) Victor Crowley, zum anderen spielt er auch dessen Vater. Der dritte Teil steht schon in den Startlöchern!
DR. HEITER (THE HUMAN CENTIPEDE)
Der Centipede ist ganz sicher einer der meist diskutierten Filme der letzten Jahre. Zuerst hielt sich der Film eher im Untergrund auf, doch die Mundpropaganda erledigte den Rest und schon sah man Anspielungen zum Film bei SOUTH PARK und sogar ein Musical wurde von begeisterten Zuschauern auf die Beine gestellt. In Deutschland hat der Film erst nach über 2 Jahren einen Verleiher gefunden, der den Film nur geschnitten durch die FSK bringen konnte. Nichtsdestotrotz ist Dr. Heiter in kürzester Zeit zur Kultfigur aufgestiegen, was natürlich hauptsächlich an dem tollen Schauspieler Dieter Laser liegt. Dr. Heiter hat im Film eine Vision, er möchte drei Menschen miteinander verbinden, sie gar wie ein Haustier halten. Nach dem Erfolg des ersten Teils folgte ein weiterer Film und es folgt noch ein dritter Teil, in dem auch Dieter Laser wieder vor der Kamera stehen wird.
KYUNG-CHUL (I SAW THE DEVIL)
Als die ersten Bilder zu Kim Je-woons I SAW THE DEVIL auftauchten, waren die Erwartungen groß. Und sie
wurden definitiv erfüllt. Was für ein Ritt. Serienkiller Kyung-chul macht keine halben Sachen und er schreckt auch nicht davor zurück, Kinder zu töten. Als er die Tochter eines ehemaligen Polizisten umbringt, will der Verlobte des Opfers Rache. Dass er dazu auch noch ein Geheimagent ist, kommt ihm dabei nur zugute. Eine perfide Jagd, bei der man kaum nach Luft schnappen kann, beginnt und endet schließlich in einem grandiosen Finale. Schauspieler Choi Min-sik war schon in OLDBOY herausragend und beweist in der Rolle des Psychopathen erneut, dass er ein sehr talentierter Actor ist. Auf jeden Fall bleibt der Film und sein Bösewicht in nachhaltiger Erinnerung.
THE COLLECTOR (THE COLLECTOR & THE COLLECTION)
"Von den Drehbuchautoren von Saw 4, 5 und 6." Gerne wird auf Filmcovern damit geworben, das irgendwelche Leute, die an einem erfolgreichen Genrefilm mitgearbeitet haben, an dem Werk beteiligt sind. Meist geschieht das, um die Verkaufszahlen zu verbessern. Auch bei THE COLLECTOR musste man erst schmunzeln, doch der Film ist alles andere als eine Kopie von SAW. Die Story handelt von Arkin, der in dem neuen Haus der Familie Chase ein paar Reparaturen machen soll und zufällig mitbekommt, dass sich ein Safe im Haus befindet. Da seine Frau dringend eine größere Summe Geld braucht, um sich ein paar gefährliche Typen vom Hals zu halten, beschließt Arkin, in der Nacht in das Haus zu gehen und den Safe zu leeren. Leider befindet sich zur selben Zeit ein Killer im Haus, der überall Fallen aufgebaut hat. Schauspieler Juan Fernández mimt im ersten Teil den Sammler (Collector). Der Film kam so gut bei den Fans an, dass unter dem Namen THE COLLECTION ein zweiter Teil folgt. Marcus Dunstan übernimmt wieder die Regie und die Rolle vom Collector hat diesmal Stuntmen Randall Archer übernommen.
Irgendwo weit entfernt von der Zivilisation, meilenweit nichts anderes außer Bäume und das Auto hat eine
Panne. So starten unzählige Horrorfilme, und wie die Story endet, ist meist schon bekannt. WRONG TURN (2003) war in der Hinsicht nicht sonderlich anders, aber der Film hatte trotzdem fast durchgehen Erfolg beim Zielpublikum. Das lag zum einen auch an den Kannibalen One Eye, Saw Tooth und Three Finger, die mit ihrem Aussehen und ihrer Gestik dem ganzen Film das gewissen etwas gegeben haben. Das Drehbuch war gut, die Schauspieler haben einen Klasse Job gemacht und entstanden ist ein Film, den viele von euch in ihrer Sammlung haben. Was folgte, waren 4 weitere WRONG TURN Filme, die aber nicht mehr an den Erfolg anknüpfen konnten und meist von den Fans verhöhnt werden.
MICK TAYLOR (WOLF CREEK)
Böse! Das war der Eindruck von WOLF CREEK (2005), nachdem der Abspann über den Bildschirm lief. Viele Filmemacher geben ja gerne an, das ihr Werk auf wahren Begebenheiten beruht, aber meist nimmt man es ihnen nicht ab. Bei dem Outbackhorror von Regisseur Greg Mclean war es aber anders, man saß vor dem Fernseher und hatte ein sehr unangenehmes Gefühl. Schauspieler John Jarratt hat den sympathisch wirkenden Mick Taylor gespielt und wurde danach von der Szene gefeiert. Kein Wunder, seine Performance war brillant und natürlich darf John nicht in der Fortsetzung fehlen, dessen Dreharbeiten im Moment laufen.
SAM (TRICK R TREAT)
Eigentlich sieht Sam schon fast niedlich aus. Doch der Kleine hat es faustdick hinter den Ohren. In TRICK R
TREAT begleitet uns Sam durch vier Geschichten hindurch und will uns und den Protagonisten die alten Halloween Traditionen näher bringen. Dieses geschieht aber meist mit fiesen Attacken, bei denen man nicht immer überlebt. Doch wer sich an ein paar bestimmte Regeln hält, hat nichts weiter zu befürchten.
Der Film war das Regiedebüt von Michael Dougherty und die Genrefans haben den Film überwiegend Positiv aufgenommen. Sam würde von dem heute vierzehnjährigen Schauspieler Quinn Lord gespielt. Immer wieder gibt es Spekulationen um eine Fortsetzung, aber bislang gibt es dazu noch keine weiteren Infos. Wir hätten definitiv nichts dagegen, wenn Sam passend zu Halloween wieder auftaucht.
JOHN RYDER (THE HITCHER)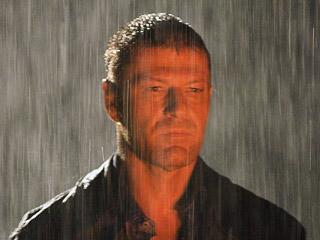 Nach diesem Film überlegt man sich zweimal, ob man einen Fremden im Auto mitnehmen soll. Die Neuverfilmung von HITCHER, DER HIGHWAY KILLER ist nicht zuletzt wegen seines Hauptdarstellers eines der besseren Remakes der letzten Jahre. Wir begleiten das junge Paar Grace und Jim, die auf ihrer Fahrt nach New Mexico einen Anhalter mitnehmen. Zunächst scheint John Ryder ganz nett zu sein, doch spätestens, als er im Auto der beiden sitzt, schlägt die Stimmung um.
John Ryder ist ein Psychopath, wie er im Buche steht und Schauspieler Sean Bean nimmt man seine Rolle den ganzen Film über ab. Im Original hat Kultdarsteller Rutger Hauer die Rolle von John Ryder gespielt. Beider Filme sind auf jeden Fall sehenswert, denn mit John Ryder ist wahrlich nicht zu spaßen.
Der Serienkiller Leslie Vernon geht seiner Leidenschaft, dem töten von Menschen, mit einer großen Freude
nach. Um sein tolles Hobby zu dokumentieren, lädt er kurzerhand ein paar Studenten ein, die seine Machenschaften filmen sollen. Doch irgendwann bekommt das Filmteam Gewissensbisse und versucht, Leslies potenzielle Opfer zu warnen. Das hat der Killer natürlich gar nicht gerne und es passt auch so gar nicht in seinen geplanten Ablauf.
Der Film von 2006 hatte mit seinen Andeutungen an die großen Slasherfilme nach kurzer Zeit schon viele Fans gewonnen. Nathan Basel spielte die Rolle des Killers und soll auch in der geplanten Fortsetzung diesen Part übernehmen.
Natürlich gab es in den letzten 13 Jahren auch weitere Bösewichte, die kaum in Vergessenheit geraten werden. Wir erinnern uns zum Beispiel an den Killer aus HIGH TENSION, die maskierten Unbekannten aus THE STRANGERS, Captain Spaulding und die Familie Firefly aus HAUS DER 1000 LEICHEN/THE DEVILS REJECTS, Ichi aus ICHI THE KILLER, Bo und Vincent aus HOUSE OF WAX, die ganze Sippe aus FRONTIER(S), die Frau aus INSIDE, Mr.Boogie aus SINISTER oder Samara aus THE RING.
Auch einige alte Bekannte sind nach der Jahrtausendwende erneut auf der Bildfläche erschienen. LEATHERFACE war mit MICHAEL BAYS TEXAS CHAINSAW MASSACRE, TCM: THE BEGINNING und TEXAS CHAINSAW 3D gleich drei mal zu sehen. JASON VOORHEES hat 2009 wieder rumgemetzelt. Rob Zombie hat MICHAEL MYERS in zwei Filmen wieder auf die Jagd geschickt. CHUCKY kam zusammen mit seiner Braut Tiffany in CHUCKYS BABY zum Zug. Freddy Krueger sorgte 2010 erneut für Albträume und der GHOSTFACE KILLER durfte in SCREAM 4 die altbekannte Clique auf Trab halten.
Sicher fallen euch noch mehr Bösewichte ein, diese dürft ihr gerne in der Kommentarfunktion einfügen!
Wie man sieht, waren die letzten Jahre in Sachen Horror gar nicht mal so übel. Wir sind gespannt, was die Zukunft bringt.
Facebook Comments