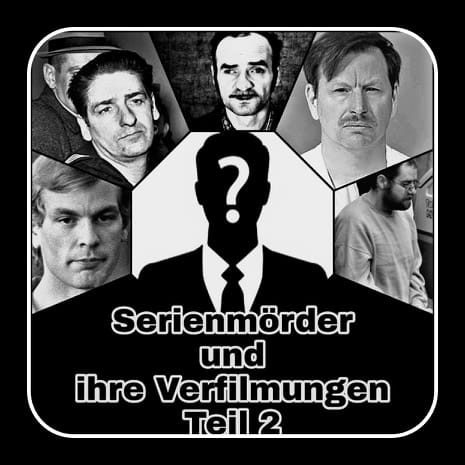 Heute kommen wir zu dem zweiten Teil unseres Specials über Serienmörder und den Verfilmungen ihres Lebens und ihrer Taten.
Falls ihr den ersten Teil verpasst haben solltet, könnt ihr diesen unter folgendem Link nachlesen.
Und nun lasst uns, ohne große Worte zu verlieren,  direkt starten mit:
Albert Henry DeSalvo
Ehemann, Zweifacher Vater, ehemaliger Soldat der US – Armee und gleichzeitig soziopathischer Serienmörder und Vergewaltiger.
All das trifft auf Albert Henry DeSalvo, welcher 1931 in Massachusetts geboren wurde, zu.
Unter dem Namen The Boston Strangler, oder früher auch Green Man, rechnet man ihm 13 Morde an alleinstehenden Frauen, zwischen 1962 und 1964, an.
Unter einem Vorwand verschaffte er sich Zutritt zu ihren Häusern, vergewaltigte und erdrosselte sie mit einem ihrer Kleidungsstücke.
Im Jahr 1965 gestand DeSalvo alle 13 Morde, wurde jedoch lediglich wegen verschiedener Sexualdelikte und Raubes angeklagt, da ihn keine Beweise mit den Morden in Verbindung brachten.
Im Januar 1967 wurde er dann schließlich zu einer lebenslangen Haft in einer Nervenheilanstalt verurteilt, allerdings starb er bereits 6 Jahre später, durch einen Mithäftling, der ihm ein Messer ins Herz stach.
Seine Familie glaubt allerdings bis heute an seine Unschuld und dass er die Morde nur wegen Geld zugegeben habe.
THE BOSTON STRANGLER
THE BOSTON STRANGLER, auch bekannt als DER FRAUENMÖRDER VON BOSTON, von Richard Fleischer, stammt aus dem Jahr 1968 und basiert auf einem Buch von Gerold Frank.
Hier werden uns diese geschilderten Vorgänge, allerdings fast ausschließlich aus der Sicht der Ermittler gezeigt.
Zum Cast gehören unter anderem Tony Curtis als DeSalvo, der für diese Rolle für den Golden Globe nominiert wurde, und Henry Fonda als John S. Bottomly.
THE BOSTON STRANGLER
THE BOSTON STRANGLER von Keith Walley aus dem Jahr 2006, zeigt uns die Taten von DeSalvo, hier gespielt von Mauro Lannini, aus seiner eigenen Sicht.
Hier erzählt er von seinen Taten, während er in seiner Zelle sitzt.
THE BOSTON STRANGLER – DIE WAHRE GESCHICHTE DES KILLERS DESALVO
Eine weitere filmische Interpretation mit dem Titel THE BOSTON STRANGLER – DIE WAHRE GESCHICHTE DES KILLERS DESALVO befasst sich mit dem Zweifel an seiner Schuld.
Dieses Werk von Michael Feifer aus dem Jahr 2008, erzählt die Geschichte, wie DeSalvo, gespielt von David Faustino, zusammen mit seinem Zellengenossen, einen Plan ausheckt, um an Geld zu kommen.
Veröffentlicht wurde der Film im Juli 2008.
---
Fritz Honka
Niemand hätte wohl vermutet, dass der kleine schielende Nachtwächter von nebenan ein grauenvoller Serienmörder sein könnte. Doch genau dies war Fritz Honka, der auch unter den Namen Frauenmörder von St. Pauli oder aber Blaubart von Altona bekannt wurde.
Seine Opfer, meist ältere Prostituierte, hatte er unter anderem in einer Kneipe mit dem Namen "Goldenen Handschuh" in St. Pauli aufgelesen, mit nach Hause genommen, dort, nach dem Sex, stranguliert und zerstückelt.
Honka wurde im Dezember 1976 wegen Mordes in einem Fall und Totschlags in drei Fällen, wegen verminderter Schuldfähigkeit, zu einer Strafe von 15 Jahren verurteilt und es wurde die Unterbringung in einem psychiatrischen Krankenhaus angeordnet, aus welchem er 1993 entlassen wurde. Sein restliches Leben verbrachte er als Peter Jensen in einem Altenheim, bis er 1998, vermutlich an den Folgen seines Alkohol – und Nikotinmissbrauchs, starb.
DER GOLDENE HANDSCHUH ist ein Filmdrama aus dem Jahr 2019 von Fatih Akin, der für das Drehbuch und die Regie verantwortlich war.
Der Film basiert auf dem gleichnamigen Roman von Heinz Strunk und zeigt die Taten des unscheinbar wirkenden Mannes mit Hornbrille und eingedrücktem Gesicht: Fritz Honka, gespielt von Jonas Dassler.
---
Gary Leon Ridgway
Harmloser Vater und Ehemann oder schrecklicher Serienkiller?
Beides trifft auf Gary Leon Ridgway zu, welcher 1949 in Salt Lake City geboren wurde.
Bereits als Jugendlicher stach er einen sechsjährigen Jungen mit einem Messer nieder, doch dies war noch "harmlos" im Vergleich dazu, was folgen sollte, denn der spätere U.S. Navy Militärdienstleister war für eine der größten Mordserien in der amerikanischen Geschichte verantwortlich.
Als Green River Killer tötete er zwischen 1982 und 1998, laut seiner eigenen Aussage, zwischen 75 und 80 Frauen im Alter zwischen 12 und 38 Jahren, wovon bis heute 49 bestätigt werden konnten.
Seine Opfer, Prostituierte und Ausreißerinnen, gabelte er in den Rotlichtvierteln von Seattle auf. Er nahm sie entweder zu sich nach Hause oder zum Green River mit, wo er Sex mit ihnen hatte und sie anschließend erwürgte, um sich dann abermals an der Leiche zu vergehen.
Nachts kehrte er häufig zurück, um erneut Sex mit der Leiche zu haben oder aber ihren Körper zu verstümmeln.
Erst im November 2001, als bekannt wurde, dass auf vier der Opfer Spuren von DNA gefunden wurden, die mit der Speichelprobe von Ridgway übereinstimmten, konnte er verhaftet werden.
Zwei Jahre später bekannte er sich schließlich für 48 Morde schuldig und wurde zu einer lebenslangen Haftstrafe ohne Möglichkeit auf Bewährung verurteilt, welche er in der Justizvollzugsanstalt Washington in Walla Walla absitzt.
GREEN RIVER KILLER
GREEN RIVER KILLER ist ein Krimi von Ulli Lommel, der im August 2008 in Deutschland veröffentlicht wurde.
Es zeigt die harmlose Fassade von Gary Ridgway, gespielt von George Kiseleff, als Familienvater und Postangestellter, aber auch das schreckliche Geheimnis dahinter: Sein Leben als Serienmörder.
GREEN RIVER: DIE SPUR DER KILLERS
GREEN RIVER: DIE SPUR DES KILLERS, auch bekannt als THE CAPTURE OF THE GREEN RIVER KILLER von Norma Bailey, wurde im Mai 2009 in Deutschland veröffentlicht.
Hierbei handelt es sich um eine Adaption des Buches CHASING THE DEVIL des damaligen Ermittlers Dave Reichert, welche die Bemühungen der Ermittler aufzeigt, um Gary Ridgway, gespielt von John Pielmeier, zu fassen.
---
Jack the Ripper
Jack the Ripper, Leather Apron oder aber auch The Whitechapel Murderer, sind wohl Namen, die man nicht groß erklären muss.
Sie verbindet ein und dieselbe Person, welche im Jahr 1888 für fünf Morde an Prostituierten in London verantwortlich war, welche unter den Kanonischen Fünf berühmt wurden.
Seine Vorgehensweise war in allen Fällen sehr identisch. Er durchschnitt die Kehlen seiner Opfer, öffnete den Unterleib und entfernte diverse Organe, wie etwa die Gebärmutter.
Es existieren zwar viele Theorien darüber, wer dieser Mensch war, der solch grausame Morde verübte, doch bis heute ist die wahre Identität ein ungelöstes Rätsel, das viele immer noch beschäftigt.
JACK THE RIPPER – DAS UNGEHEUER VON LONDON
JACK THE RIPPER – DAS UNGEHEUER VON LONDON von David Wickes aus dem Jahr 1988, rekonstruiert durch Originalakten den Kriminalfall Jack the Ripper, der bis heute nicht aufgeklärt werden konnte. Hier wird allerdings jemand als Mörder ermittelt, was allgemein nur eine Theorie darstellt, da der wahre Jack the Ripper nie dingfest gemacht werden konnte.
Das Drehbuch hierfür schrieb Wickes zusammen mit Derek Marlowe.
Zu den Darstellern gehören unter anderem Michael Cain, der für seine Rolle als Insp. Frederick Abberline 1989 den Golden Globe für den besten Darsteller in einem TV-Spielfilm erhielt, und Armand Assante als Richard Mansfield.
Für diejenigen unter euch, die der Film interessiert:
Ihr könnt ihn euch hier gerne komplett anschauen.
---
Jeffrey Dahmer
Der unscheinbare Junge aus schwierigem Elternhaus Jeffrey Lionel Dahmer, welcher im Jahr 1960 in Milwaukee geboren wurde, entpuppte sich später als einer der berüchtigsten Serienmörder.
Bekannt als Milwaukee Cannibal ermordete er zwischen 1978 und 1991 17 junge Männer und Jugendliche, dabei entsprachen sie alle demselben Profil: jung, groß, schlank und muskulös.
Seine Vorgehensweise war fast immer nach demselben Muster:
Er lockte sein jeweiliges Opfer unter einem Vorwand in seine Wohnung, wo er es betäubte, sexuell missbrauchte und erwürgte. Danach kam es zu nekrophilen Handlungen an der Leiche und schließlich zur Zerstücklung, welche von ihm fotografisch festgehalten wurde.
Häufig hob er den Schädel und andere Körperteile auf und verspeiste sogar das ein oder andere.
Im Juli 1991 wurde Dahmer schließlich festgenommen und zu 15mal lebenslänglich verurteilt, allerdings wurde er im November 1994 von einem Mithäftling erschlagen.
THE SECRET LIFE: JEFFREY DAHMER
THE SECRET LIFE: JEFFREY DAHMER von David R. Bowen stammt aus dem Jahr 1993 und zeigt die Geschichte von Jeffrey Dahmer, sowohl seine Kindheit, als auch den Beginn und das Ende seiner Mordserie.
Zum Cast gehören hier unter anderem Carl Crew als Jeffrey Dahmer, G-Jo Reed als Steve und Rowdy Jackson als Richard.
DAHMER
Der Thriller DAHMER von David Jacobson, der zusammen mit David Birke auch das Drehbuch hierfür schrieb, wurde im April 2003 in Deutschland veröffentlicht.
Dieses Werk zeigt, auch wenn die Namen der Opfer abgeändert wurden, die tatsächlichen Ereignisse dieser Mordreihe.
Zu den Darstellern gehören unter anderem Jeremy Renner in der Rolle von Jeffrey Dahmer, Bruce Davison als Lionel Dahmer und Kate Williamson als Dahmers Großmutter.
MY FRIEND DAHMER
MY FRIEND DAHMER von Marc Meyers aus dem Jahr 2017, erhielt auf dem Austin Fantastic Fest im selben Jahr die Auszeichnung als Bester Film – Fantastic Features.
Der Film basiert auf der gleichnamigen Graphic Novel von John Backderf, in der dieser von seiner Bekanntschaft mit dem Serienmörder Jeffrey Dahmer berichtet und so den Augenmerk auf eine andere Seite Dahmers legt.
Zum Cast gehören unter anderem Ross Lynch als Jeffrey Dahmer, Alex Wolff als Derf (John Backderf) und Anne Heche als Joyce Dahmer.
---
John Bunting
"Pädophile haben Kindern schreckliche Dinge angetan. Die Behörden haben nichts dagegen unternommen. Ich habe beschlossen, etwas dagegen zu tun. Ich habe etwas getan."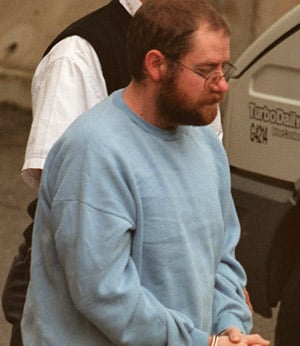 Dies war die Aussage eines psychopatischen Serienmörders, namens John Justin Bunting, der 1966 geboren wurde.
Zwischen 1992 und 1999 war dieser Mann für die sogenannten Snowtown – Morde, oder auch Bodies-in-Barrels murders, wie man sie noch nennt, verantwortlich, bei denen zwölf Menschen gefoltert und ermordet wurden.
Um ein Beispiel zu nennen: Man folterte das Opfer mit Elektroschocks an den Genitalien und führte anschließend eine Wunderkerze in die Harnröhre ein, welche angezündet wurde und wiederholte dies. Danach wurden die Zehen zerschmettert, Ohren und Nase mit Zigaretten verbrannt und schließlich lies man das Opfer an seinem Knebel ersticken.
Die Leichen wurden in Fässern, welche mit Salzsäure befüllt waren, an verschiedenen Orten gelagert.
Bunting tat dies alles aber nicht alleine. Er hatte bei seinen grausamen Taten Hilfe von einigen weiteren Personen, darunter Robert Joe Wagner, James Spyridon Vlassakis und Mark Ray Haydon.
Im Jahr 2001 wurde Vlassakis, wegen vierfachen, Bunting wegen elffachen und Wagner, wegen siebenfachen Mordes zu lebenslangen Freiheitsstrafen verurteilt.
In Haydons Fall blieb es bei einem Schuldspruch wegen fünffacher Beihilfe zum Mord, da viele vorgebrachte Beweise als unzulässig abgelehnt wurden.
Der Film DIE MORDE VON SNOWTOWN von Justin Kurzel, welcher im Mai 2011 veröffentlicht wurde, basiert auf John Buntings Leben und seinen Taten.
Hier wird Bunting durch Daniel Henshall verkörpert.
---
---
Dies war der zweite Teil unserer Reihe.
Falls ihr möchtet könnt ihr den ersten Teil hier nachlesen, falls ihr das nicht bereits haben solltet.
Folgt uns für den nächsten Teil.
Facebook Comments