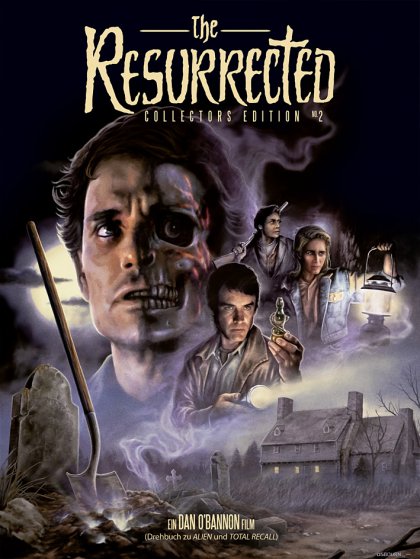 Glaubt man der Filmdatenbank imdb wurden fast 150 Filme, Kurzfilme und Videospiele vom Schaffen H.P. Lovecrafts beeinflusst. Es fällt aber auf, dass viele Werke eher lose inspiriert wurden (z.B. TANZ DER TEUFEL) als eine direkte Adaption einer Geschichte zu sein. Ebenso deutlich ist, dass es erschreckend wenige Streifen gibt, die es Schaffen die einzigartige Atmosphäre des lovecraft'schen Schaffens widerzugeben.
THE RESURRECTED kann das.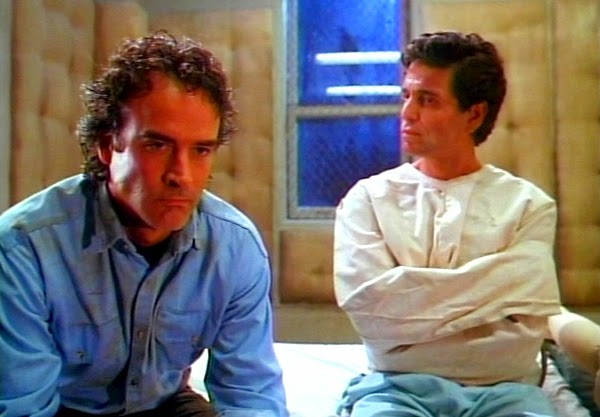 Als die besorgte Ehefrau des Wissenschaftlers Charles Ward bei Privatdetektiv John March auftaucht, ahnen beide noch nicht, welche erschreckenden Geheimnisse sie im Laufe des Films ergründen werden.
Der Dame gehen die unbekannten, nächtlichen Experimente ihres Gatten einfach zu weit und wie der Ermittler feststellt, lässt dieser sich nicht nur regelmäßig mit Leichenteilen versorgen, sondern versucht in einem abgelegenen Haus auch, diese ins Leben zurückzuholen.
Der Film basiert auf Lovecrafts Roman DER FALL CHARLES DEXTER WARD nimmt sich seine Freiheiten aber schon bei der zeitlichen Einordnung. 1927 geschrieben, 1941 veröffentlicht, 1991 verfilmt (übrigens nicht zum einzigen Mal) und augenscheinlich legt der Film die Ereignisse auch zur Zeit seiner Entstehung an. Das ist aber keine Katastrophe, denn guter Horror ist ohnehin zeitlos und die Stimmung ist getroffen.
Umgekehrt ist es nicht so, dass THE RESURRECTED, den man hierzulande auch als EVIL DEAD-DIE SAAT DES BÖSEN kennen kann, knapp 25 Jahre nach seiner Entstehung an Altersschwäche leidet.
Zwar fällt auf wie sehr man mit der oft üblichen blaustichigen Dunkelheit arbeitet, die in den 90ern angesagt war und im Finale finden sich einige Effekte, die gebraucht aussehen, auf der anderen Seite finden sich aber großartige, eklige praktische FX.
In welche Genre-Schublade ist THE RESURRECTED zu packen? Gar nicht einfach, beginnt er doch wie eine klassische Detektivgeschichte, wird in der zweiten Hälfte aber zum puren Schrecken, vor allem wenn March, sein Partner und Wards Frau in die Katakomben unter dem Haus hinabsteigen und es mit -nennen wir es mal- Wiederbelebtem zu tun bekommen. Ein typischer Zombiestreifen sieht aber anders aus. Belassen wir es also dabei, dass der Film eigenständig ist, was selten genug und selten ein Fehler ist.
Regie führte Dan O'Bannon, ein unterbewerteter Macher des fantastischen Films. O'Bannon schrieb die Drehbücher für ALIEN, LIFEFORCE und TOTAL RECALL und saß beim großartigen RETURN OF THE LIVING DEAD ebenfalls auf dem Regiethron.
Fazit: Fans von H.P. Lovecraft muss man THE RESURRECTED kaum noch empfehlen, weil sie ihn längst im Regal stehen haben, für alle anderen gibt es hier aber einen Daumen nach oben.
Eines sei noch angemerkt: wir bewerten hier zwar nicht die Verpackung oder das Bonusmaterial, sondern alleine den Film, wer auf Derartiges aber wert legt, kann sich im Falle von THE RESURRECTED die Vollbedienung abholen. Das Mediabook kommt mit einem 78-seitigen Booklet mit vielen Informationen und das Bonusmaterial bietet nahezu alles was das Fan-Herz begehrt.
Facebook Comments