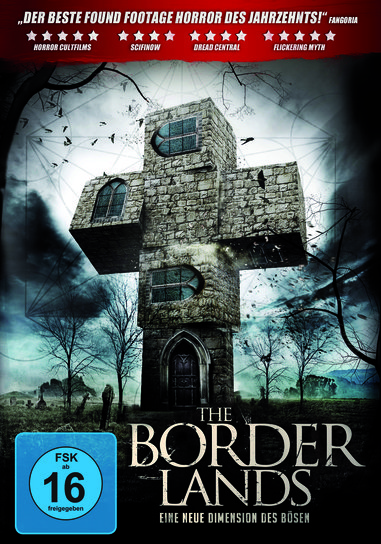 Zutaten für einen austauschbaren Found Footage Film?
Eine kleine Gruppe Menschen, die ungewöhnliche an einem gewöhnlichen Ort untersuchen will und entweder bemüht ist zu beweisen, dass dort etwas Paranormales vorgeht oder dass dort NICHTS Paranormales vorgeht…das Ergebnis bleibt das Gleiche: immer geht etwas Paranormales vor.
Die gute Meldung ist, dass die Location in THE BORDERLANDS kein ehemaliges Irrenhaus ist. Die schlechte Nachricht ist, vieles andere kommt einem bekannt vor.
Im Fall von THE BORDERLANDS handelt es sich um eine kleine Kirche auf dem Land, in der sich eigenartige Dinge zutragen.
Um die Vorfälle zu durchleuchten, werden zwei Geistliche, die auf solche Fälle spezialisiert sind, und ein Techniker mit der Aufgabe betreut.
Zunächst drängt sich der Verdacht auf, dass der ortsansässige Pfarrer mit psychischen Problemen zu kämpfen hat, doch was ist Ursache? Was Wirkung?
Wie angesprochen, sollte man sich THE BORDERLANDS nur ansehen, wenn man seine Filme nicht zu originell mag. Allerdings lässt der Film den menschlichen Faktor nicht zu kurz kommen und gibt uns genügend Zeit uns mit Technik-Freak Gray und Vatikan-Ermittler Deacon anzufreunden, bevor es ans Eingemachte geht.
Die beiden unterschiedlichen Hauptcharaktere werden von Gordon Kennedy und Robin Hill gespielt. Letzterer agierte u.a. auch in KILL LIST und arbeitete in unterschiedlicher Funktion an weiteren Filmen von Ben Wheatley.
Schauspielerisch ist hier nichts zu meckern. Beide wissen was sie tun und ihre Figuren sind glaubwürdig und durchaus sympathisch, der Film braucht aber eine ganze Weile bis er Fahrt aufnimmt und trotz einiger erschreckender Szenen im Mittelteil entsteht Hochspannung nur zum Ende hin.
Schon zu Beginn des Films sehen wir die gesamte Technik, die die Ermittler hier zum Einsatz bringen. Die BLAIR WITCH – Zeiten in denen man mit zwei billigen Kameras durchs Gestrüpp zieht, scheinen definitiv vorbei und in THE BORDERLANDS wird jede Ecke ausgeleuchtet und gefilmt. Warum unsere Helden permanent alberne Kopfkameras tragen müssen, wird zwar im Film erläutert, albern bleibts trotzdem.
Für die deutsche Version gilt wieder einmal, dass Found Footage mit klinisch reiner Tonspur nicht funktioniert, daher am Besten im Original schauen.
Fazit: THE BORDERLANDS ist kein schlechter Film, enthält aber nur eine einzige Szene, die im Gedächtnis bleibt und schafft es nicht zu beeindrucken.
Facebook Comments