Wie wir im Juni hier ankündigten, hat Netflix am 22. September dieses Jahres Ana Lily Amirpours zweiten Film THE BAD BATCH veröffentlicht. Die Regisseurin hatte vorher mit A GIRL WALKS HOME ALONE AT NIGHT beeindruckt.
Inhalt von THE BAD BATCH
Die junge Arlen wird an der Grenze zu Texas in das sogenannte Wasteland überführt. Im Wasteland landen all jene, die der Gesellschaft nicht dienen und für menschlichen Abschaum gehalten werden. Arlen hat ein Ziel: Sie will den Ort Comfort erreichen, der einer Art großen Hippie-Kommune gleicht. Allerdings wird sie auf dem Weg dorthin von kannibalistisch veranlagten Menschen gefangen genommen. Sie kann zwar entkommen, muss aber fortan mit dem Verlust von Unterschenkel und Unterarm leben – die beiden Körperteile wurden bereits verspeist. Nach einer auszehrenden Reise kommt Arlen doch noch in Comfort an und führt nun dort ihr Leben.
Etwas später stößt sie durch Zufall auf die Tochter des Anführer der Kannibalen, die sie mit nach Comfort nimmt. Als der Vater das Verschwinden seiner Tochter bemerkt, macht er sich auf die Suche und trifft dabei unweigerlich auf Arlen.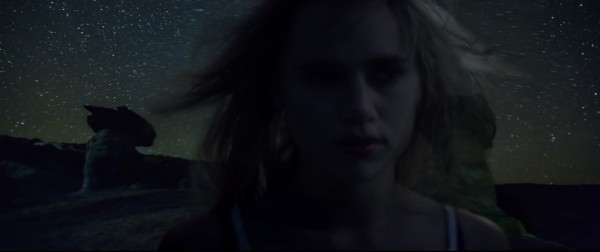 Fazit
Den Inhalt von THE BAD BATCH zu umreißen ist schwierig, denn obwohl der Film fast zwei Stunden dauert, passiert nicht viel. Die meiste Aufregung ist etwa innerhalb der ersten 20 Minuten zu erwarten, danach plätschert die Handlung vor sich hin. Und damit ist auch bereits der erste Kritikpunkt getroffen: es passiert zu wenig für 115 Minuten. Die Handlung hätte für einen Kurzfilm ausgereicht, wurde aber durch gefühlt endlose Feierszenen und LSD-Trips künstlich aufgebauscht.
Die wenigen Dinge, die passieren, ergeben keinen Sinn. Ich persönlich habe mich die ganze Zeit gefragt, woher die Leute – mitten in der Wüste, abseits jeglicher Zivilisation – genug Strom für einen Rave haben und woher das Equipment dafür stammt. Es gibt keine Erklärung. Ebenfalls keine zufriedenstellende Erläuterung gibt es dafür, weshalb genau diese Leute von der Gesellschaft verstoßen wurden. Hier bleibt es bei Vermutungen. Und dann bleibt da noch das für mich größte Mysterium (Achtung: Spoiler!!!): THE BAD BATCH wird als Love Story betitelt. Unsere Protagonistin verliebt sich nämlich in den Anführer der Kannibalen, der möglicherweise Teile ihres Körper gegessen hat. Einfach so, nachdem sie möglicherweise 3 Sätze gewechselt haben und er sie beinahe an einen anderen Mann verkauft hätte. Das wird leider auch nicht weiter erklärt.
Um nicht gänzlich negativ zu sein: Die Aufnahmen sind zum Teil wunderschön und der Film ist sehr ästhetisch. Die Schauspieler machen ihre Sache sehr gut und es ist eine kleine Starbesetzung zu sehen. Aber leider kann das die Defizite in der Story nicht ausgleichen.
Facebook Comments