Britische Horrorfilme haben eine lange Tradition. Wer könnte die vielen Produktionen der Hammer-Studios vergessen, die u.a. Christopher Lee als DRACULA bekannt machten? Oder Lees Auftritt in THE WICKER MAN? Oder Klassiker wie WENN DIE GONDELN TRAUER TRAGEN, AMERICAN WEREWOLF und HELLRAISER? Die Aufzählung ließe sich selbstredend noch um viele Filme ergänzen, wir wollen uns heute aber auf Filme Made In The UK beschränken, die nach der Jahrtausendwende produziert wurden.
Warum? Nicht weil wir die älteren Filme nicht schätzen (wir lieben sie), nicht weil denken, dass wir euch jeden der neuen Filme nochmal vorstellen müssen (obwohl hier und da ein Geheimtipp versteckt ist), sondern weil wir denken, dass Großbritannien als aktuelles Horror-Filmland nicht die Aufmerksamkeit erhält, die ihm zusteht. Wie oft wurden in den letzten Jahren Frankreich und Spanien gelobt, wo doch auch die Briten eine Vielzahl von wirklich grimmigen Werken unters Volk brachte, einigen aber auch den bekannten schwarzen Humor zukommen ließ.
Hier also die 21 besten britischen Horrorfilme des 21. Jahrhunderts:
(Hier die Abkürzung zu den Top 10)
Platz 21-11 (ohne Reihenfolge)
---
THE COTTAGE
Andi Serkis spielt hier einen der beiden Kidnapper, die eine Millionärs-Tochter entführen. Das vermeintliche Opfer, dass sie in einem Häuschen aus dem Lande gefangen halten, macht es den tollpatschigen Verbrechern schon schwer genug, aber die blutrünstige Nachbarschaft ist ein Kapitel für sich.
THE COTTAGE braucht etwas, um in Fahrt zu kommen, geht dann aber in die Vollen.
---
Nicht von jedem geliebt und tatsächlich sollte man sich vor dem Genuss fragen, wie man "Horrorfilm" definiert, denn dieses Werk hat ein großes Dramaanteil und legt mehr Wert auf eine Geschichte als sinnloses Blutvergießen. Regisseur ist Neil Jordan, von dem auch INTERVIEW MIT EINEM VAMPIR kam. Davon abgesehen, dass auch in BYZANTIUM Vampire eine tragende Rolle spielen, gibt es zwar keine Verbindung, trotzdem könnten beide Filme eine ähnliche Zielgruppe ansprechen.
---
DIE FRAU IN SCHWARZ
Daniel Radcliffes erster Film nach seiner steilen HARRY POTTER – Karriere ist ein altmodischer Grusler geworden. Altmodisch heißt dabei aber nicht altbacken und der Film um einen jungen Anwalt, der in einem nebligen Moor ein altes Herrenhaus besucht und einen bösen Geist findet, ist so britisch wie man es sich nur vorstellen kann.
---
GRABBERS spielt zwar in Irland, das ist aber immerhin auch eine britische Insel und der Film ist eine irisch-britische Co-Produktion. Die simple Story dreht sich um Aliens mit Tentakeln, die auf einer einsamen Insel landen und nur diejenigen verschonen, die besoffen sind…ist so lustig, wie es klingt.
---
HUSH
Zakes und Freundin Beth fahren eines nachts im Auto hinter einem LKW her. Als sich bei einem riskanten Fahrmanöver für einen Moment die Ladeklappe öffnet, sieht Zakes darin eine eingesperrte Frau. Die Polizei nimmt seinen Notruf nicht ernst und nicht einmal Beth glaubt ihm, aber er geht trotzdem der Sache nach und erlebt in dieser Nacht ein höllisches Katz- und Maus-Spiel.
Ein paar Logiklöcher gibt es, aber HUSH ist trotzdem verflucht spannend.
---
Natürlich wird jede weitere britische Zombiekomödie immer an SHAUN OF THE DEAD erinnern. COCKNEYS VS. ZOMBIES macht trotzdem Spaß.
Hier ereignet sich die Apokalypse während eines Banküberfalls. Da die Räuber aber gutmütige Kerle sind, die das Geld nur für die Rettung des Altersheims ihres Opas wollten, ist ihnen klar, dass sie nun die Rentner retten müssen, bevor sie in die Hände der Untoten fallen.
---
DOGHOUSE
Wenn ihr unter der Fuchtel eurer Freundin steht, eine Trennung aber keine Option ist, sei euch DOGHOUSE als stiller Protest empfohlen. Hier verschlägt es den frisch geschiedenen Neil (Danny Dyer) in eine kleine Ortschaft wo alle Frauen zu blutrünstigen Zombies wurden.
Lustig…außer ihr seid eine Frau.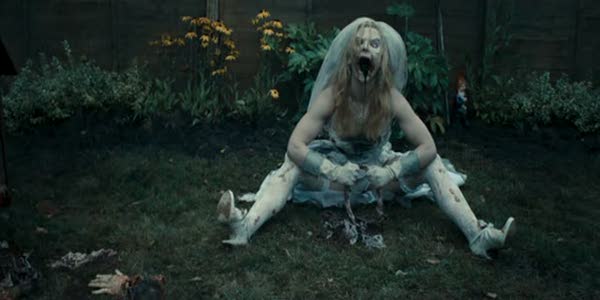 ---
F – LONDON HIGHSCHOOL MASSACRE ist simpler aber effektiver Hoodie-Horror und steht damit für den neuen britischen Terror in denen kapuzentragende Jugendliche im Vordergrund stehen.
Nach Einbruch der Dunkelheit wird eine Schule von Unbekannten angegriffen. Im Mittelpunkt steht ein bei Schülern und Kollegium in Ungnade gefallener Lehrer, der versucht seine Tochter zu retten.
---
WAKE WOOD
Was würdest du tun, wenn du dein totes Kind noch einmal für 3 Tage zurückholen könntest? Das ist die zentrale Frage aus der dieser Grusler gestrickt ist.
Genauso wichtig ist aber die Frage, was liebende Eltern tun, wenn die 3 Tage um sind.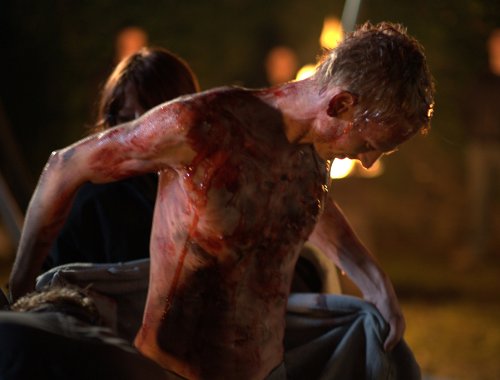 ---
Rebeca Hall spielt eine skeptische junge Geisterjägerin, die in den Nachwehen des ersten Weltkriegs ein entlegenes Internat untersucht und feststellen muss, dass in diesem Fall keine simple Erklärung zu finden ist. Altmodischer Grusel im besten Sinne.
---
Ein entstellter Fotograf entdeckt, dass in den Straßen Londons Dämonen umgehen. Kein purer Horror, sondern eher finsteres Großstadt-Märchen, aber für über-den-Teller-Schauer, die dunkles fantastisches Kino und gute Schauspieler zu schätzen wissen, empfehlenswert.
---
Die Top 10 der besten britischen Horrorfilme findet ihr hier
Facebook Comments