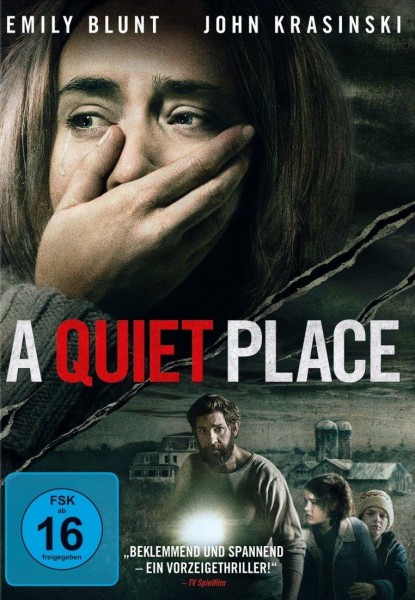 Früher war ja bekanntlich alles besser, jeder Film ein Kracher und Ausfälle gab es nicht.
Falsch! Tatsächlich sieht es eher so aus, dass es seit jeher pro Jahr nur 2-3 Filme gibt, die durch Qualität und Originalität den Test der Zeit überstanden.
Nun ist es zu früh, darüber zu urteilen, wo A QUIET PLACE in 20 Jahren stehen wird, eines ist aber schon mal geklärt: dies ist eines der Highlights 2018.

Story: die komplette Menschheit wurde ausgerottet. Nur eine Familie hat es geschafft zu überleben. Ihr Trick ist sich absolut geräuschlos zu verhalten, denn die Monster, die für das Ende der Zivilisation verantwortlich sind, sind zwar blind, besitzen aber ein ausgezeichnetes Gehör und attackieren akustische Auffälligkeiten.
Jeder, der mal versucht hat, besonders leise zu sein, weil man z.B. die Mitbewohner in der Wohnung nicht wecken möchte, sollte ein Gefühl dafür haben, was die Überlebenden mitmachen.
Hier kann jeder laute Schritt zum Verhängnis werden; ein versehentlich herabfallender Gegenstand ist eine Katastrophe; ein unbedarftes Lachen ein Todesurteil.
Als A QUIET PLACE im Kino lief war immer wieder davon zu hören, wie ruhig es in den meisten Vorstellungen war und auch zuhause funktioniert diese ungewöhnliche Spannung hervorragend und man traut sich als Zuschauer kaum nach Chips und Bier zu greifen.
Gleichzeitig fragt man sich, wieviel Disziplin die fünfköpfige Familie, die auf einer Farm lebt, braucht um diese permanente Vorsicht aufrecht zu erhalten. Ganz möglich ist das nicht, aber im Laufe des Films werden uns immer wieder neue Ideen vorgestellt, wie sich die Menschen mit der Situation arrangieren und für Schallschutz und Ablenkungsmanöver sorgen.
Wenn wir an dieser Stelle von einem "ruhigen Film" sprechen, ist in der Regel ein gemächlicher Spannungsaufbau gemeint, im Falle von A QUITE PLACE ist Ruhe aber natürlich wörtlich zu nehmen. Unterhaltung findet meist nur per Gebärdensprache statt, wobei der hörbehinderten Tochter eine besondere Rolle zukommt.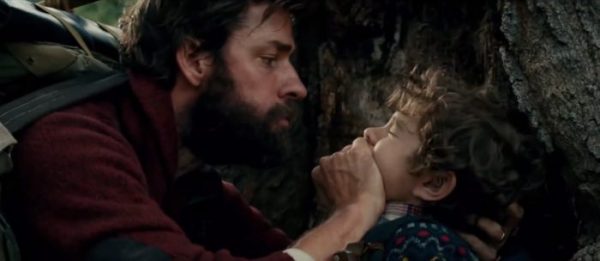 Das allerdings nicht nur, weil sie ein Hörgerät tragen muss, sondern auch, weil sie als Heranwachsende rebellische Züge aufweist und insbesondere zum Vater ein angespanntes Verhältnis hat. Einerseits sorgen diese zwischenmenschlichen Eigenheiten für eine Vertiefung der Charaktere (die logischerweise auch ohne nennenswerte Dialoge vorgestellt werden müssen), sucht man aber das Haar in der Suppe, mag man sich an ein-zwei pathetisch-emotionalen Szenen stören.
So fiktiv die Ausgangssituation auch sein mag, unter den gegebenen Umständen lässt sich A QUIET PLACE nur selten bei unlogischen Momenten erwischen. Sicher, wer gerne alles haarklein erklärt bekommt, wird sich auch fragen, woher die Monster kamen, vielleicht auch warum lange nach dem Zusammenbruch der Welt wie wir sie kennen noch Strom läuft. Legitime Kritikpunkte, die aber der Spannung nichts anhaben können und diese Spannung ist allgegenwärtig, weil absolut nicht absehbar ist, wann ein kleines Missgeschick zur Gefahr wird.
Trotzdem spitzt sich die Situation nochmal zu, als die hochschwangere Mutter alleine im Haus bleibt und die Wehen einsetzen…
Ich mag nicht beurteilen, zu welchem Prozentsatz die Kreaturen am Computer und in der Werkstatt entstanden, letztlich spielt es aber auch keine Rolle, weil der Unterschied nur selten zu sehen ist und das Creature Design gelungen ist. Apropos Computer: Zocker werden sich von den Monstern und deren Verhalten womöglich etwas an die Clicker aus dem Hit THE LAST OF US erinnert fühlen. Es gibt schlechtere Referenzen.
Fazit: Wir vergeben selten die Höchstnote, aber auch die winzigen Kritikpunkte können nicht verhindern, dass A QUIET PLACE einer der originellsten Filme der letzten Jahre ist und sich eine glatte 10 verdient hat.
Facebook Comments