Nach dem Erfolg von DAS SCHWEIGEN DER LÄMMER und SIEBEN waren Serienmörder-Thriller in den 90ern sehr angesagt. Nachdem irgendwann zu dem Thema fast alles gesagt war und klassische Horrorfilme wieder stärker wurden, verschwanden sie aber weitestgehend von der Bildfläche.
Da ist es schön zu sehen, dass mit THE FACTORY mal wieder was aus dieser Richtung kommt und mit Jennifer Carpenter (QUARANTÄNE, DEXTER) und John Cusack (IDENTITÄT) zwei gestandene Akteure die Hauptrollen übernehmen.
Mike (Cusack) ist Cop durch und durch. Er liebt Frau und Tochter, doch von seiner Arbeit ist er besessen und der Fall von einigen jungen Frauen, die nach und nach von den Straßen Buffalos verschwanden, lässt ihn nicht los. Der Täter, der stets bei Schneegestöber zuschlägt ist indessen auf der Suche nach einem neuen Opfer.
Zufällig ist es Mikes aufmüpfige Teenie-Tochter, die nach einem Streit mit ihrem Freund während eines Sturms im Schneegestöber steht und in das Auto des Fremden einsteigt. Nun müssen Mike und Partnerin Kelsey (Carpenter) den Täter finden, bevor es zu spät ist.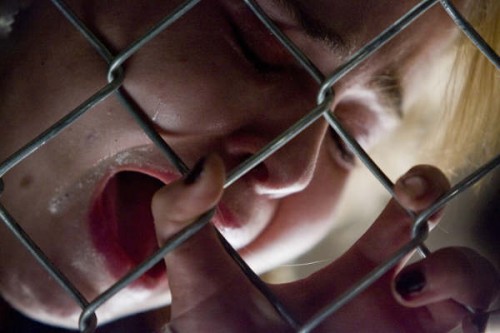 Man mag milde lächeln, wenn der Film für sich in Anspruch nimmt von "wahren Begebenheiten inspiriert" worden zu sein, über weite Strecken ist das aber plausibel und wenn früher der Tötungsakt im Vordergrund stand, erinnert THE FACTORY an reale Fälle wie Natascha Kampusch oder Jaycee Lee Dugard, die über Jahre gefangen gehalten wurden.
Fast unnötig zu erwähnen, dass man sich dennoch reichlich künstlerische Freiheit gönnt und neben dem Fall auf persönliche Belange der Ermittler, Mikes Familie und des Täters eingeht.
Im Rahmen der Story macht das durchaus Sinn und fügt sich zum Ende zu einem Ganzen zusammen. Dort (Achtung kleine Spoiler) wartet dann eine Wendung auf uns, die man nicht zwingend kommen sieht, auch weil dieser Twist erzwungen wirkt. Das gilt auch für manchen Zufall, der uns im Laufe des Films begegnet. Dass gerade die Tochter des Cops entführt wird, der den Fall betreut, ist in einer Großstadt doch unwahrscheinlich.
Der Film ist hingegen sauber fotografiert und zeichnet ein klares Bild von Buffalo, wo Schnee, Eis und Dunkelheit dominieren. Sonnenschein gibt es hier nur in kurzen Rückblenden.
Auch die Figuren sind solide gezeichnet. Cusack ist zwar wie meist ein unauffälliger Vertreter seines Fachs, schafft aber eine glaubwürdige Mischung aus Vater und Ermittler. Die familiären Konflikte wirken ebenso realistisch wie die Zusammenarbeit mit Jennifer Carpenter.
Interessant wäre gewesen mehr über das Leben der Gefangenen zu erfahren, die teilweise mehrere Jahre im Keller verbringen müssen. Während manche gezeigte Verhaltensweise in einer Extremsituation grundsätzlich nachvollziehbar ist, wirken sie auf den ersten Blick fragwürdig.
Fazit: THE FACTORY ist kein schlechter Film, der allerdings auch mit ein paar Schwächen daherkommt, die man leicht hätte vermeiden können.
Facebook Comments