Die Geschichte vom texanischen Kettensägenmassaker ist eine Geschichte voller Missverständnisse.
Das beginnt damit, dass das Massaker, wie Tobe Hooper es 1974 auf die Menschheit losließ, "nur" 5 Morde zeigte und der Film, obwohl er lange beschlagnahmt war, recht unblutig daherkommt.
Es folgten drei Sequels, ein Remake, ein Prequel zum Remake, ein Sequel, das die anderen Sequels ignorierte und nun ein Prequel zum Original.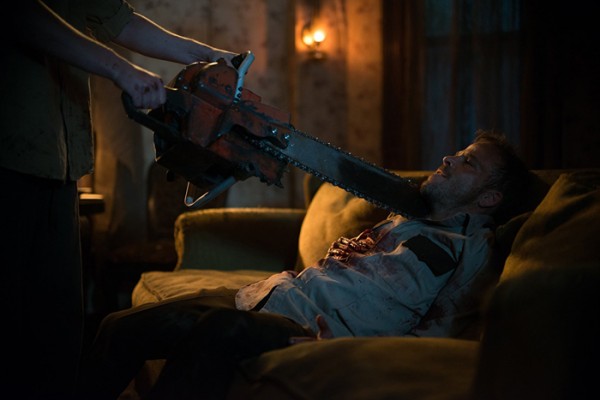 Das zeigt wie Jed Sawyer alias Leatherface, zu jenem hünenhaften Sägenschwinger wurde und beginnt in dessen Kindheit.
Jed wird schon als Kind auffällig und landet in einer Besserungsanstalt. Dort bricht er einige Jahre gemeinsam mit einer Gruppe brutaler Mithäftlinge aus. Mit dabei ist eine Krankenschwester, die die Verbrecher als Geisel nehmen. Das Ziel ist Mexiko, doch die Polizei ist ihnen auf der Spur.
Die beiden Franzosen Alexandre Bustillo und Julien Maury feiern mit LEATHERFACE ihr US-Debüt und auch sie dürften sich missverstanden fühlen, immerhin werden sie oftmals noch immer auf ihren INSIDE reduziert, obwohl schon die Folgefilme LIVID und AMONG THE LIVING zeigten, dass sie mehr wollen als reinen Splatter.
Allerdings ist LEATHERFACE der wohl härteste Film seit INSIDE und erschien daher nicht nur in der geschnittenen FSK 18 – Fassung sondern auch einer SPIO/JK-Version.
Eins der Probleme von LEATHERFACE ist, dass er sich nicht wirklich wie ein Film aus der TEXAS CHAINSAW MASSACRE – Reihe anfühlt.
Inhaltlich und atmosphärisch fühlt man sich an NATURAL BORN KILLERS oder THE DEVIL'S REJECTS oder an die erste Hälfte von AMONG THE LIVING erinnert. Alles keine üblen Filme, aber alle gehören nicht zur TCM-Serie.

Wie eingangs erwähnt hat die titelgebende Motorsäge auch im Urfilm eine kleinere Rolle als der Titel suggeriert, in LEATHERFACE taucht das praktische Gartentool ebenfalls nur im Prolog und im Finale auf, was manchen Fan enttäuschen wird.
Örtlich und zeitlich ist auch nicht alles stimmig. Texas sieht sehr europäisch aus und siehe da… Gedreht wurde in Bulgarien und während inzwischen viele Streifen aus Kostengründen in Osteuropa abgedreht werden, fällt doch auf, dass die Landschaft anders erscheint als man annehmen würde. Von der texanischen Hitze, die Tobe Hooper und seine Crew in den 70ern während des Drehs quälte, ganz zu schweigen.
Zeitlich spielt der Großteil des Werks in den 50er Jahren und die zugehörigen Autos vermitteln so mehr den Eindruck, dass man es mit einem hübsch restaurierten Oldtimer zu tun hat, als sich wirklich in dieser Zeit aufzuhalten.
Gut, auch in Texas hat es nicht immer 45°C und ansonsten macht der Film von der optischen Seite keine großen Fehler.
Im Vergleich zum letzten Film der Reihe, TEXAS CHAINSAW, ist LEATHERFACE allemal eine Steigerung, schon alleine weil die Figuren weniger dumm-nervig sind. Schauspielerisch geht hier einiges in Ordnung, Stephen Dorff der hier einen Sheriff spielt, versagt hingegen richtig.

Dafür gibt es Kills satt. Mehr als 20 Menschen beißen ins Gras und dazu kommen einige Ekelszenen, die stellenweise aber gezwungen wirken. Kleine Spoiler: dass sich die Ausbrecher IN einer toten Kuh verstecken, um damit die Spürhunde abzuhängen, wäre gar nicht so dumm und wurde schon von Luke Skywalker und Leo DiCaprio in abgewandelter Form vorgemacht, trotzdem wirkt es hier recht unrealistisch und aufgesetzt.
Was bei der Entstehung des Films offenbar eine große Rolle spielte, war die Frage wer denn nun Leatherface ist. Das ist nämlich lange gar nicht klar. Wir werden Zeuge, wie die Ausbrecher mordend durchs Land ziehen und keiner von ihnen ist ein Chorknabe, aber keiner hat eine Kettensäge dabei.
Der Film lässt uns also rätseln, was nicht verkehrt ist, überreizt das Thema aber und als er dann doch die Karten auf den Tisch legt, geschieht die Wandlung absurd schnell, aber wenig glaubwürdig.
Zusammenfassend werden diejenigen, die nie etwas hinterfragen, aber jeden blutigen Mord feiern, den Film lieben. Wer in der Hoffnung einschaltet einen schlüssigen Werdegang eines der bekanntesten Killers der Horrorgeschichte zu erleben, wird hingegen feststellen, dass LEATHERFACE wirkt als wäre ein x-beliebiges Roadmovie bereits abgedreht gewesen, als man sich entschied vorne und hinten ein paar Minuten Kettensägenmassaker anzukleben.
Facebook Comments