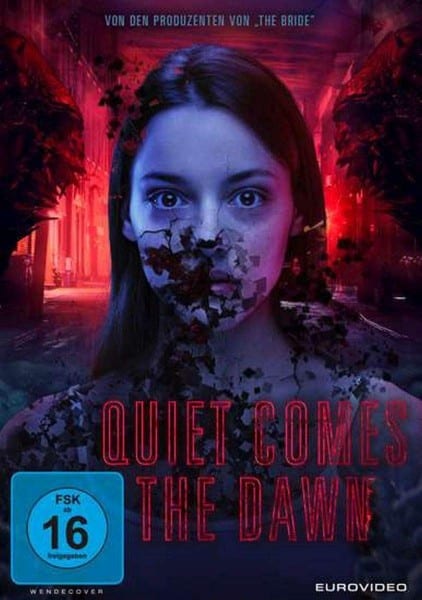 Bis vor ein paar Jahren, waren russische Horrorfilme noch echte Exoten, inzwischen gehören sie zum alltäglichen Bild und mit QUIET COMES THE DAWN erreicht uns ein Film, der einmal mehr unterstreicht, worauf man in Moskau und Umgebung wert legt.
Story:
An ihrem 20. Geburtstag stürzt sich Svetas Bruder mitten in der Nacht vor ihren Augen in den Tod.
Dass die junge Frau fortan von Alpträumen geplagt wird, scheint angesichts der tragischen Umstände nur normal, doch Sveta findet heraus, dass auch ihr Bruder vor seinem Tod darunter litt und zudem einer Sekte angehörte, zu der auch ihre – ebenfalls verstorbene – Mutter gehörte.
Um mehr über ihre nächtlichen Angstzustände herauszufinden, begibt sich Sveta zusammen mit Freundin Nastya in ein Schlaflabor. Gemeinsam mit anderen Versuchsteilnehmern, sollen sie dort einen geteilten Traum erleben….aber was sie bekommen ist mehr als nur ein Alptraum.


Schlechter Schlaf blieb früher einem Herrn Krueger aus der Elm Street vorbehalten, aber seit der kürzer tritt, mischen sich zunehmend auch andere Gestalten in unsere Träume.
Filme wie MARA, NIGHTMARE – SCHLAF NICHT EIN! oder die Schlafparalyse – Doku THE NIGHTMARE ließen das Thema in den letzten Jahren wachsen und natürlich nutzt auch die Horror-Blockbuster-Reihe INSIDIOUS Elemente der Schlafparalyse.
In eine ähnliche Kerbe schlägt auch QUIET COMES THE DAWN und da ein Alptraum meist mehr aufs Gemüt als auf den Magen schlägt, tut er dies mit zahlreichen Jumpscares, die so laut aufgedreht sind, dass schon mal der Nachbar an die Wand klopfen könnte, wenn ihr den Film schaut.


Die Brutalo-Fraktion wird von dem Streifen weniger begeistert sein und Traditionalisten wird das Werk aufgrund seines in Russland oft üblichen CGI-Einsatzes wohl auch nicht in Begeisterungsstürme versetzen.
Der Einfall, dass man verschiedene Menschen gemeinsam in einen bösen Traum schickt, ist für einen Horrorfilm aber grundsätzlich natürlich bestens geeignet und da Alpträume ohnehin ihren eigenen Realitäten folgen, war es nicht nötig auf weltliche Logik zu achten.
So wurde QUIET COMES THE DAWN zur bunten Geisterbahn, bei der verschiedene Schrecken nebeneinander erscheinen. Für Regiedebütant Pavel Sidorov war diese Freiheit sicher ein Vorteil und die Schocks sind passabel in Szene gesetzt, wenn auch oft unter Zuhilfenahme von den schon erwähnten enorm lauten Sounds.
Auf der anderen Seite bietet der Film weder Charaktere mit denen man zwingend mitleidet, noch eine Story an der man unbedingt dranbleiben möchte.
Wenn man hier einschaltet, gilt es also abzuwägen, ob der gelegentliche Jumpscare ausreicht, um andere Defizite auszubügeln.
QUIET COMES THE DAWN hier kaufen
Facebook Comments