Stell dir vor du bist auf einer Party und lernst deinen Traumtypen / deine Traumfrau kennen. Es funkt sofort zwischen euch und ihr vergeudet keine Zeit und geht zusammen nach Hause. Dort folgt die Ernüchterung. Das sind nicht die versprochenen 20cm, die Hängebrüste wurden durch einen Push-Up geschönt und ungeschminkt sieht die Realität ganz anders aus, von Körpergeruch ganz zu schweigen.
Das gleiche kann dir auch am DVD-Regal widerfahren: Du hältst eine Disc in der Hand und es ist Liebe auf den ersten Blick. Einige namhafte Schauspieler geben auf dem Cover alles, und wie dort zu lesen ist überschlägt sich die Presse vor Lob und Filmfestivals reißen sich um den Film, der die perfekte Symbiose aus DER EXORZIST, ALIEN, HALLOWEEN und SAW ist. Dein Puls schlägt schneller und du weißt: Diese DVD wird dein Leben verändern!
Auch hier folgt die Ernüchterung. Das was dort gezeigt wird, erinnert mehr an die Augsburger Puppenkiste als an den "ultrabrutalen und nervenzerreißenden Ausnahmefilm", der dir angepriesen wurde. Natürlich befreit es, dem nichtsnutzigen Händler das Teil gegen die Stirn zu tackern, aber belogen wurdest du nicht von ihm, sondern der Hülle.
Machen wir uns nichts vor. Auf keiner DVD-Hülle steht: "Dieser Film stinkt" und das ist verständlich.
Trotzdem darf man sich über ein paar Ungeheuerlichkeiten wundern.
Hier sind ein paar der gängigsten und übelsten:
Ein Sequel?
Die meisten Fortsetzungen sind ohnehin eine Sünde, an Betrug grenzt es aber, wenn deutsche Marketingstrategen zwei Filme als Teil 1 und 2 verkaufen, obwohl diese keinen Bezug zueinander haben und im Original auch unter völlig anderen Bezeichnungen laufen.
Beispiele sind HOUSE OF THE BUTCHER 1&2. Auch wenn sich die Filme ähneln (beide müssen zum Restmüll sortiert werden), kennt man sie im Original als BUTCHER HOUSE und DEAD MEAT, wobei der angebliche zweite Teil sogar älter ist als der erste.
Weiteres Beispiel: die beiden  Streifen kennt man im Original als DEATH OF A GHOST HUNTER und 8213 GACY HOUSE. Einzige Gemeinsamkeit ist ein gewisser Found Footage – Anteil.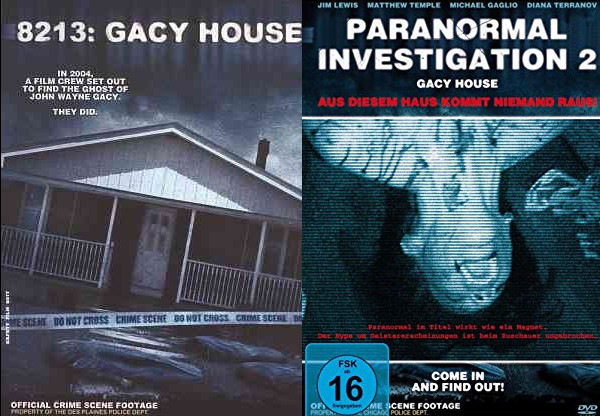 Der Film wäre gerne jemand anderes
Bleiben wir bei PARANORMAL INVESTIGATIONS, dessen (deutscher) Titel und Coverartwork klarstellt, dass er gerne
mit PARANORMAL ACTIVITY in einer Liga spielen möchte. Auch nicht besser: PARANORMAL VITALITY, SUPERNATURAL ACTIVITY undundund…
Auch die Trash-Schmiede The Asylum macht seit Jahren Geld damit, dass verwirrte Käufer ihre Filme kaufen, weil die hoffen einen aktuellen Mainstream-Blockbuster am Krabbeltisch zu finden, während das Original noch im Kino läuft.

Die Filme muss man zwar beide nicht gesehen haben, Lincoln als Vampirjäger war aber solider Mainstreamgrusel, der es ins Kino schaffte, während The Asylum den Ex-Präsidenten zeitgleich in der Trash-Variante gegen Zombies im Heimkino antreten ließ.
Das falsche Cover

Ein Fall, der mir vor einigen Jahren bei KEIN WEG ZURÜCK zum ersten Mal unterkam.
Den Hünen, den ihr hier auf dem Cover von KEIN WEG ZURÜCK seht, ist im Film ebensowenig zu sehen, wie das gewaltige Messer. Beide Motive machen aber mehr her, als das was wirklich zu sehen ist, dort sind nicht nur die Muskeln weit weniger definiert.
Leider kein Einzelfall und noch dicker kommt es mit EISKALTER ENGEL, der auf dem Cover eine dralle Dame mit Messer zeigt, die ebensowenig im Film vorkommen wie verschiedene Details der offiziellen Inhaltsangabe. Natürlich wäre der Film, der im Original DEAD ON CAMPUS heißt, dem Titel nach gerne so wie EISKALTE ENGEL und nutzt daher auch die gleiche Schriftart.

Bei dieser Gelegenheit sollte man auch über eine Dame sprechen, die seit einigen Jahren die Cover zahlreicher B-Filme unsicher macht und nur hier und da etwas bearbeitet wurde.
Fast unnötig zu erwähnen, dass die Frau auf den Covern nie in einem der Filme auftrat, sondern diesem Bild entnommen wurde, das jeder lizenzfrei nutzen darf:

Schauspieler
Natürlich ist die Nennung von bekannten Schauspielern immer für Kundengewinnung gut, auch wenn diese nur kleine Rollen haben. Die Rede ist nicht von Drew Barrymores Rolle in SCREAM, deren früher Tod sicher für viele unerwartet kam, aber Teil des künstlerischen Spiels mit den Erwartungen war. Wenn aber auf dem Frontcover eines beknackten Films wie JUNKYARD DOGS Brad Dourif (HALLOWEEN, HERR DER RINGE) in Großbuchstaben angekündigt wird, könnte man auch damit rechnen, ihn länger als 2 Minuten im Bild zu sehen.
Woher Tittenmaus Micaela Schäfer in SEED 2 kam, ist noch immer unklar, fest steht aber, dass sie nach einer Minute Screentime wieder weg war, während ihr Name auffällig groß auf dem Cover prangte.

Festivals
Jeder kennt die Lorbeerkränze auf DVD-Covern, zwischen denen "Official Selection Arschkrampen Festival Plotzenhausen" steht.
Natürlich gibt es gewisse Indikatoren und wenn man in Cannes oder dem Sundance abgefeiert wird, mag das etwas aussagen (was auch immer), aber im Grunde sind die Lorbeeren verwelkt und bedeuten nichts anderes, als dass man die Not gutgläubiger Veranstalter kleiner Filmfestivals ausgenutzt hat, die mangels Material sonst eine Wiederholung von VERSTEHEN SIE SPASS hätten zeigen müssen und nun damit prahlt, vor Ort gewesen zu sein, auch wenn die drei Zuschauer nur im Saal waren, weil es sich im dunkeln gut fummeln lässt.
Die Presse
Wer auch nach bitten, betteln, knierutschen, fluchen, schimpfen, arschkriechen und drohen auf kein Festival eingeladen wurde, kann immer noch hoffen, dass ein Pressevertreter ein paar lobende Worte findet und es scheint so, als wäre das immer der Fall.
Teilweise fragt sich der naive Käufer dann, ob der One-liner auf dem Backcover, der selten weniger sagt als: "Der beste Film, seit der Erfindung von geschnittenem Brot" oder "Alfred Hitchcock würde vor Glück weinen" wirklich jemals irgendwo geschrieben stand, ob sich die Aussage auf dieses Geschwür eines Films bezieht und ob der Verfasser zuvor eine Tasse Fensterreiniger getrunken hatte.
Auch hier muss man sich nichts vormachen. Man kennt sich in der Szene und mancher Schreiber würde nie ein schlechtes Wort über ein Label verlieren, mit dessen Mitarbeitern er ab und zu ein Bier trinkt. Magazine, die auf Werbung angewiesen sind, haben auch kein übertriebenes Interesse ihren Werbekunden zu sagen, dass ihr Film Grütze ist.
Ganz dreiste Marketingexperten brauchen aber kein Medium, das einen freundlichen Satz über ihren Streifen schreibt, sie erfinden einfach das XY-Magazin, dem sie dann eine wohlwollende Kritik in den Mund legen.
(In aller Fairness muss man aber sagen, dass es auch genügend faire und nicht aus dem Zusammenhang gerissene Zitate gibt…so oder so, wir verzichten hier auf Beispiele, um den käuflichen Kollegen einen Funken Restwürde zu lassen)
Von den Machern von…
Wie oft wurde diese Floskel schon vergewaltigt?
Nur weil irgendein Assistent am Set von THE SHINING Jack Nicholson die Fussnägel lackierte (und damit zum "Macher" wurde), bedeutet das nicht, dass der Typ jetzt auch ein guter Regisseur ist.
Häufige Verwendung findet dieser Satz auch in Bezug auf Produzenten. Die sind für die Entstehung zweifelsohne wichtig, aber das ist der Nägel-Maler auch. Künstlerisch-kreativ sind andere.
Noch heute glaubt eine Trillion Menschen, dass bei MICHAEL BAY'S TEXAS CHAINSAW MASSACRE ein gewisser Michael Bay Regie geführt habe. Dass der deutsche Marcus Nispel für einen anständigen Film verantwortlich sein könnte, scheint undenkbar.
Das Spiel wiederholte sich bei ALEXANDRE AJAS MANIAC, der zwar vom HIGH TENSION – Macher produziert worden war, bei dem aber Ajas langjähriger Weggefährte Franck Khalfoun Regie führte.
Vermutlich denken auch verschiedene Leute, dass Eli Roth, dessen Namen groß auf dem CLOWN – Cover prangt, dort Regie führte. Das ist natürlich falsch. Regisseur war Jon Watts, was auch erklärt, warum CLOWN nicht so übel war wie GREEN INFERNO und KNOCK KNOCK. Fürs Marketing ist Roth aber offenbar trotzdem der Name der zieht.
Vergleiche
Wenn nichts mehr hilft, kein großer Name zu haben und kein Pressevertreter bestechlich war, bleibt dem Texter nur noch eins: Der plumpe Versuch durch eine geschickte Formulierung das cineastische Hühnerauge ins Fahrwasser eines großen Werkes zu schiffen.
Vom französischen Rape & Revenge-Filmchen VILLA CAPTIVE, heisst es "I SPIT ON YOUR GRAVE trifft auf MARTYRS". Immerhin stammt auch Pascal Laugiers Meisterwerk aus Frankreich, das muss als Parallele reichen. Hier hätte sich also auch ein Vergleich mit LOUIS UND SEINE AUSSERIRDISCHEN KOHLKÖPFE angeboten.
So soll TRAIN "Krank wie SAW, hart wie HOSTEL, blutig wie REC" sein. Der HOSTEL-Vergleich geht in Ordnung, die anderen beiden hat man eben auch mal erwähnt, klingt ja gut.
Ebensogut könnte man den pickeligen Bankazubi meiner Sparkassen-Filiale als "den nächsten Rob Zombie" bezeichnen.
Mit SAW stellt sich jeder gerne auf eine Stufe. THE DEVIL'S ROCK ist angeblich "SAW im dritten Reich". Wieso das denn???
Aber jeder hat mal klein angefangen, selbst auf dem Cover des großen SAW war zu lesen "nach SIEBEN kommt nicht acht, sondern SAW". Immerhin ein passender Vergleich und Beleg dafür, dass man nicht jeden Film aufgrund eines Verweises auf dem Cover automatisch unter die Axt legen sollte.
Andererseits…auf eine Sache kann man sich verlassen: wer auf einem Cover als Referenz geführt wird, ist zu 99% ein sicherer Hafen für einen guten Filmabend. Im Zweifel also gleich dem Hinweis folgen…
Facebook Comments