THE WALKING DEAD ist ein enormer Erfolg, der seinesgleichen sucht. Nicht nur läuft inzwischen die 7. Staffel im Fernsehen, die Serie hat Zombies auch endgültig in die Mitte der Gesellschaft gebracht. Neben den Comics von Robert Kirkman, mit denen alles begann, gibt es heute vielfältiges Merchandise zu kaufen und selbst Horrorfans, die dem Spektakel kritisch gegenüberstehen, wissen vermutlich wer Rick, Daryl und die Beißer sind.

Dass daher die Spin Off – Serie FEAR THE WALKING DEAD entstand, die zwar im gleichen Universum spielt, aber statt im Südosten der USA an der Westküste spielt und komplett andere Figuren in den Fokus rückt, ist nicht nur aus kommerzieller Sicht sinnvoll.
Dazu kommt, dass uns in THE WALKING DEAD der Ausbruch der Zombie-Epidemie weitestgehend vorenthalten wurde, was der Ableger nachholt.
Die Ausrichtung ist aber grundsätzlich ähnlich. Auch hier setzt man auf eine Mischung aus Drama und Horror und während die zwischenmenschlichen Elemente in THE WALKING DEAD meist in einer Welt stattfinden, die mit der realen gar nichts mehr gemein hat, sind die Probleme zu Beginn des Spin Offs zunächst greifbarer. Drogensüchtige Teenager und Sorgerechtsfragen, das kennt man. Ob man es mag ist natürlich eine Frage des persönlichen Geschmacks, denn sicher trägt auch die völlige Abnabelung zur Realität zum Erfolg der Originalserie bei.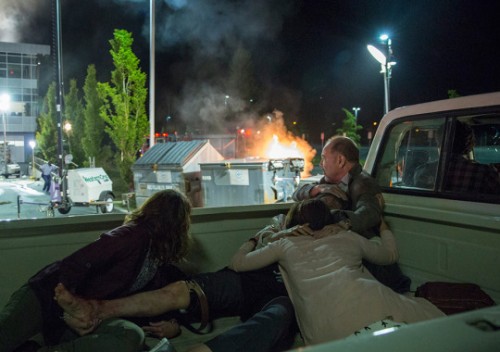 Aber keine Sorge, während die ersten 1-2 Folgen FEAR THE WALKING DEAD noch viel Normalität enthalten, wandelt sich das Bild bald. Polizeihundertschaften füllen die Straßen, auf der anderen Seite stehen Plünderer und während gewöhnliche Menschen einfach nur Sicherheit suchen, beginnen die Toten durch den Moloch Los Angeles zu wandeln.

Wo sich Rick und seine Gruppe meist außerhalb der Großstadt Atlanta aufhalten, dominiert LA und auch die Farbgebung ist dementsprechend eine andere. Weniger grün, mehr Bilder der Großstadt.
Eine der Hauptfiguren in FEAR THE WALKING DEAD ist Nick, ein jugendlicher Junkie und man sieht schon, dass außer einer gewissen namentlichen Nähe das exakte Gegenstück zum Familienvater und Sheriff Rick Grimes gefunden wurde.
Es scheint also so, als wären ein paar Parallelen ebenso gewünscht wie ein paar Unterschiede und das scheint auch ein guter Weg.
Um FEAR THE WALKING DEAD zu sehen, muss man übrigens keine THE WALKING DEAD – Vorkenntnisse mitbringen. Hat man die aber und weiß in welchem Zustand etwa die Beißer nach mehreren Jahren sind, macht es Spaß mal wieder frische Untote zu sehen und Menschen, die noch nicht mit der Gefahr umgehen können.
Wie die erste Staffel von THE WALKING DEAD ist auch FEAR THE WALKING DEAD mit 6 Folgen recht kurz und dementsprechend knackig. Für Fans des Originals ist die Serie in jedem Fall eine Sichtung wert, auch weil die Qualität auf ähnlichem Niveau ist und sich damit von dem eher trashigen Z NATION, das derzeit ebenfalls umherwandelt, angenehm abhebt.
Facebook Comments