Holland ist nicht gerade eine große Filmnation, was in den letzten Jahren in Sachen Horror zu uns kam (zu nennen wären vor allem die HUMAN CENTIPEDE – Reihe und FRANKENSTEIN'S ARMY) war aber ebenso wahnsinnig wie kreativ.
Da kann KILL ZOMBIE! nicht mithalten, denn hier geht es "nur" um Zombies, die Amsterdam aufessen.
Aziz ist ein kleiner Angestellter und ein gutmütiger Kerl, doch an manchen Tagen geht eben alles schief: erst verliert er seinen Job, gerät zusammen mit Bruder Mo in eine Schlägerei, landet im Knast und dann kracht auch noch ein russischer Satellit auf ein Hochhaus und eine ausgelaufene Flüssigkeit verwandelt nahezu alle Menschen in Zombies.
Da klingelt bei Aziz das Telefon, seine hübsche Ex-Kollegin wird von den Infizierten verfolgt und braucht Hilfe…
Auch wenn der Schauplatz Holland ist, Filme wie COCKNEYS VS. ZOMBIES und natürlich vor allem SHAUN OF THE DEAD lassen grüßen. In allen Fällen belagern Untote eine Großstadt, Humor ist wichtiger als Horror und ein paar Loser haben die Chance zu Helden zu werden.
Nun ist KILL ZOMBIE! nicht nur zu spät dran, um einen Originalitätsorden zu erhalten, sondern verfügt auch nicht über das geniale Nick Frost/Simon Pegg-Duo und deren liebenswerte Charaktere.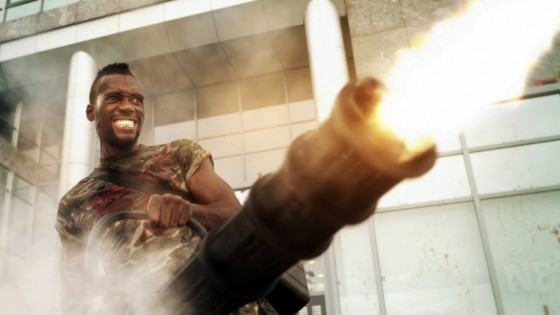 Gerade die Figuren wurden allzu oft aus Stereotypen zusammengebastelt und quasseln viel Stuss, der den Film nicht voranbringt und oft nicht mal lustig ist oder in ähnlicher Form in früheren Komödien verblasen wurde.
Die Werkzeuge, die sich die Normalos zusammensuchen, um die Untoten zur Strecke zu bringen, mögen neuartig sein (z.B. Bowlingkugeln, Tennisballmaschine), aber auch hier merkt man, dass Autor Tijs van Marle die Kreativität einige Male zwingen musste.
Das soll nicht heißen, dass KILL ZOMBIE! langweilig oder komplett unlustig wäre, denn davon ist er weit entfernt. Die anderthalb Stunden vergehen ohne nennenswerte Hänger und auch wenn viele Gags vorhersehbar sind (was passiert wohl, wenn minutenlang mit einer Armbrust vor jemandem rumgefuchtelt wird?) oder lediglich höfliches Schmunzeln erzeugen, sind doch auch ein paar satte Lacher versteckt.
Wer sich dem Stoff lieber von der harten Seite annähert, wird zwar feststellen, dass es statt Blut meist nur grünen Schleim zu sehen gibt, brutal geht es aber natürlich trotzdem zu.
Fazit: Gutes Tempo, comichaft überzogener Unsinn und Horden Zombies…es hätte schlimmer sein können
Facebook Comments