Da sage doch noch mal einer, der Horrorfilm würde sich nicht seiner sozialen Verantwortung stellen. Gerade erst haben wir über DARK TOUCH gesprochen, wo es um Kindesmissbrauch geht, schon sind wir bei zwei anderen ernsten Themen angelangt, nämlich einmal Mobbing und dessen Konsequenzen in Form von Selbstverletzung bis hin zum Selbstmord.
Mobbingopfer ist Außenseiter Lincoln, der sich endlich zur Wehr setzt und dabei einen Mitschüler mit einer Gabel verletzt. Als erzieherische Maßnahme wird er auf eine Schule aufs Land geschickt, wo er zwar schnell eine Freundin findet, aber sich ebenfalls Anfeindungen ausgesetzt sieht.
Unfreiwillig beschwört Lincoln den Geist der toten Moira, die selbst gemobbt wurde und sich daraufhin das Leben nahm… und Moira ist auf Rache aus.


Über SOME KIND OF HATE muss man wissen, dass er sowohl für Regisseur/Autor Adam Egypt Mortimor als auch Co-Autor Brian DeLeeuw den ersten Schritt in der Filmwelt bedeutet und dementsprechend ungehobelt wirkt des Ergebnis. Das soll nicht ausschließlich als negative Kritik verstanden werden, denn wir haben es ohnehin mit einem Indiefilm zu tun und den blutigen Gewalteinlagen steht eine gewisse Rohheit gut zu Gesicht, es mangelt aber auch des Öfteren am Timing, weswegen SOME KIND OF HATE ein paar Längen aufweist.
Ebenfalls negativ: egal wie Low Budget ein Film auch sein mag, es wird doch hoffentlich genug Geld für ein Kamerastativ da sein. Ich verstehe, dass ein wackliges Bild in gewissen Szenen ein wunderbares Stilmittel sein kann, manchmal wirkt das aber auch nur so, als wäre der Kameramann an Parkinson erkrankt.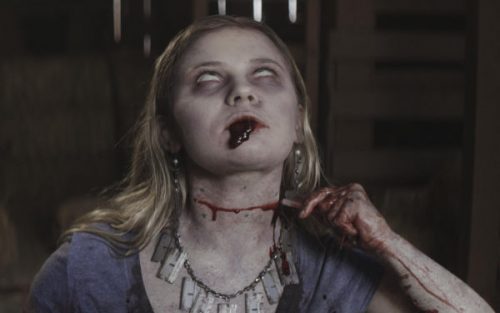 Moira, bzw. das was sie tut, ist aber eine gelungene Idee, denn der wütende Geist verletzt seine Opfer, indem sie sich selbst verletzt und das tut sie sinnigerweise mit einer Rasierklinge. Das sorgt nicht nur für hässliche Schnittwunden die Horrorfans ansprechen, sondern ist natürlich auch als Verweis auf das "Ritzen" zu verstehen, das sie sich zu Lebzeiten zufügte.
Umgekehrt ist es so, dass jeder, der sich ihr widersetzt, auch sich selbst attackiert und während Geister generell schmerzunempfindlich sind, wird sie dadurch nicht nur (nahezu) unverwundbar, sondern noch gefährlicher.


Sucht man thematische oder auch atmosphärische Ähnlichkeiten zu SOME KIND OF HATE, findet man die bei DRIFTWOOD, TORMENTED oder SAVAGED….allesamt keine fehlerfreien Filme und das ist auch dieser nicht. Im Spannungsbereich hapert es, die Idee ist besser als die Umsetzung der Idee und die schauspielerische Leistung variiert je nachdem wer gerade im Bild ist von mäßig bis recht gut.
Ansehen kann man sich SOME KIND OF HATE trotzdem, auch wegen ein paar netten Kameraaufnahmen und weil statt dem oft belanglosen Klaviergeklimper in Indiefilmen ein amtlicher Gitarrensoundtrack geboten wird.
Facebook Comments