Lehrer sein ist ein harter Job. 13 Wochen Urlaub im Jahr, nachmittags meist frei, quasi unkündbar, aber eben auch das Problem, dass man sich täglich mit Schülern befassen muss.
Das ist wahrlich kein Zuckerschlecken, wenn die Pennäler nicht nur keine Lust auf Unterricht haben, sondern den Lehrern gegenüber auch noch aggressiv werden.
So geht es auch Mr. Gale, einem Englischlehrer, der mit viel Mühe gegen die Ignoranz seiner Schüler ankämpft. Zu denen gehören auch Fin und Joel, die sich im letzten Schuljahr befinden und lieber abhängen, kiffen und Scheiße bauen wollen, statt etwas zu lernen.
Doch dann lädt Mr. Gale die beiden Chaoten zu einer speziellen Lehrstunde ein.
Einfacher ausgedrückt: Gale kidnappt Fin und Joel, fesselt sie an einen Tisch und wer nicht lernt, bekommt was mit der Nagelpistole….
Da Fin und Joel echte Arschgeigen sind, die auch dem Zuschauer in der Einführungsphase des Films gewaltig auf den Keks gehen, tut es aufrichtig gut, Mr. Gale zuzusehen, wie er die beiden zur Ordnung ruft.
Wenn sie blutverschmiert in Gales Nachhilfestunde erwachen, verspürt man in etwa so viel Mitleid wie bei 7 DAYS oder DADDYS LITTLE GIRL. Realistisch betrachtet sind die beiden aber keine Kindermörder, sondern lediglich pubertierende Blödmänner, so dass Gales Maßnahmen überzogen wirken.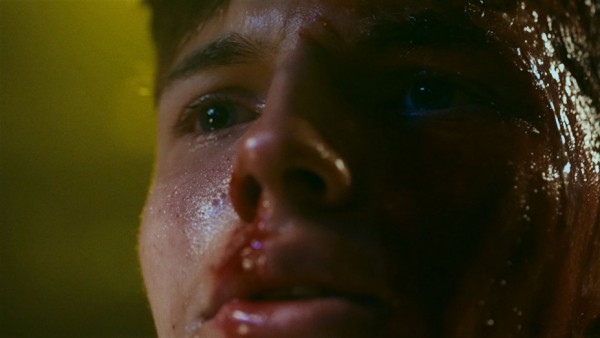 Der trichtert Fin verschiedene Fremdwörter ein, die dieser innerhalb von 10 Sekunden im Wörterbuch erblättern muss, schwadroniert über klassische Literatur und hält manche Weisheit parat. Arbeitet der Lehrling nicht mit, gibt's ein paar Nägel unter die Haut.
THE LESSON versucht sich von anderen Folterfilmen abzuheben, indem er den Figuren einen glaubhaften Background gibt. In Großbritanniens Horrorfilmen sind schwierige Teenager immer wieder ein Thema. Hier auch, allerdings aus anderer Sichtweise.
Wir erfahren, dass Fin mit seinem Bruder und dessen Freundin (auf die er ein Auge geworfen hat) zusammenlebt und mit der Situation unzufrieden ist.
Wir verstehen auch Mr. Gale, der unter seinen Schülern leidet und doch nur will, dass sein Unterricht ernst genommen wird und er sein Wissen an die nächste Generation weitergeben kann.
Und trotzdem bleibt das alles plump.
Wenn wir eingangs Gale bei seinem Unterricht über die Schulter sehen, wähnt man sich in einem Auszug aus FACK JU, GÖHTE. Es ist schwer zu glauben, dass irgendein Lehrer seinen Unterricht fortsetzt, während sämtliche Schüler auf Stühlen herumhüpfen, lautstark palavern oder dem Pädagogen Kaugummi ins Haar schmieren.
Dass Gale ausflippt, ist nachvollziehbar, mit welchem Ausmaß an planvoller Brutalität er vorgeht, hingegen nicht.
So ist er letztlich doch nur ein Folterknecht, wie wir sie aus zahlreichen anderen motivationslosen Torture-Filmen kennen und die Tatsache, dass er Milton oder William Golding zitieren kann, gaukelt vielleicht Anspruch vor, ist aber offen gesagt verdammt langweilig.
Zudem ist die Botschaft, dass Schüler schon was lernen, wenn man sie nur hart genug rannimmt, mindestens fragwürdig.
Es ist aber auch das Zusammenspiel der Elemente, das nie passen mag.
Da straighter Folterfilm, da Coming-Of-Age-Drama. Das hätte funktionieren können, in THE LESSON wirkt es aber, als habe man die Seiten zweier Drehbücher zusammengeworfen und einen Film daraus gemacht.
Man muss THE LESSON aber auch ein paar Stärken zugestehen. Fin-Darsteller Evan Bedall spielt sowohl den jugendlichen Schwachkopf als auch das Opfer souverän und die Kameraarbeit ist in Anbetracht der Tatsache, dass ein Großteil des Films in einem schummrigen Schuppen spielt, dynamisch geraten.
Erwähnenswert ist, dass der Film von Ruth Pratt erdacht und umgesetzt wurde. Nicht nur weil weibliche Regisseure noch immer Seltenheit besitzen (vor allem im Horror), sondern auch weil die Dame bisher vor allem als Schauspielerin (DER PIANIST) aktiv war.
Das alleine ist aber in diesem Fall als Kaufanreiz zu wenig.
Facebook Comments