An THE SACRAMENT waren zwei namhafte Horrorfilmer beteiligt, die euch ein Begriff sein dürften. Der erste ist Regisseur Ti West (HOUSE OF THE DEVIL), der andere Eli Roth (HOSTEL), der diesmal als Produzent auftritt.
"Viel hilft viel" sollte man meinen, man durfte allerdings gespannt sein, wie der eigenwillige Indie-Stil Wests mit der gewohnt mainstreamigen Ausrichtung Roth' reagieren, vor allem da THE SACRAMENT auf wahren Begebenheiten beruht.
Inhalt:
Jakes Schwester Caroline hat sich einer dubiosen Sekte angeschlossen, die sich in den Wäldern von der Außenwelt abschottet. Natürlich will der Fotograf wissen, wie es Caroline geht und reist zusammen mit einem kleinen VICE-Journalistenteam in die Wildnis, um sich die Community genauer anzusehen. Obwohl die Menschen dort in einfachen Hütten leben, scheinen sich die Jünger des Predigers "Vater" wohl zu fühlen. Doch als die drei Fremden genauer hin sehen bekommt die Fassade von "Eden Parish" schnell Risse und eine Katastrophe bannt sich an.
Wer VICE nicht kennt, die Seite existiert tatsächlich und widmet sich regelmäßig journalistischen Themen, die der Mainstream nicht gerne anfasst. Man könnte sich also durchaus vorstellen, dass über einen solchen Kult berichtet wird und das in einen Film einzubauen sorgt für eine gewisse Authentizität. Dafür soll auch wieder einmal der Found Footage – Stil sorgen, was im Falle von THE SACRAMENT aber fürchterlich in die Hose geht.
Während die Frage warum andauernd die Kamera läuft, diesmal (zunächst) nicht im Raum steht, darf man sich doch wundern wie widersprüchlich seitens des Kultes mit den Reportern umgegangen wird. Da laufen bewaffnete Wachen umher, die bitte nicht gefilmt werden sollen, aber bei aller generalstabsmäßiger Propaganda schon bei der Ankunft ein schlechtes Bild auf die vermeintlich friedliebende Sippe werfen. Der Empfang ist ebenfalls nicht herzlich, auch wenn jeder Bewohner beteuert, wie fantastisch das Leben in "Eden Parish" ist.
Das wirkt zwar ungelenk, wäre aber noch kein Beinbruch. Lustig wird es aber, wenn zwei Kameras plötzlich aus 10 Blickwinkeln filmen.
Dass dramatische Musik das meist roh wirkende Bildmaterial unterstreicht, kennt man von anderen Roth-produzierten Found Footage – Filmen wie DER LETZTE EXORZISMUS und bildet einen kruden Stilmix, der nur zeigt, dass die Macher nicht in der Lage waren ihr Ding konsequent durchzuziehen.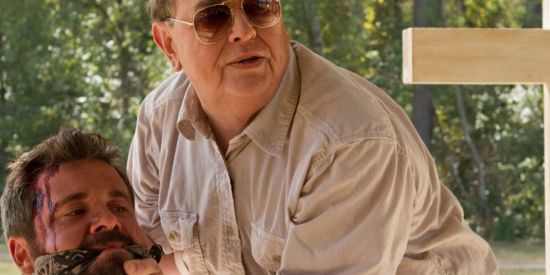 Schauspielerisch ist vor allem Vater-Darsteller Gene Jones positiv hervorzuheben, der den Anführer mit einer Mischung aus Kumpeltyp, Vaterfigur und arrogantem Großkotz gibt. Das wird perfekt in einer Szene deutlich, in der er vor seiner Gemeinde interviewt werden soll, den Befrager aber ein ums andere Mal gekonnt auflaufen lässt.
Auch die anderen Akteure spielen solide. Mit dabei sind AJ Bowen, Joe Swanberg, und Kentucker Audley, die alle bereits mit Ti West arbeiteten (z.B. in V/H/S, HOUSE OF THE DEVIL und YOU'RE NEXT).
Inhaltlich war ich zunächst versucht, vieles in Frage zu stellen.
Zu schnell merken die Journalisten, dass etwas nicht stimmt, zu übereilt wird ihnen ein Hilferuf zugesteckt, zu rasch kippt die Stimmung im Camp. Tatsächlich trugen sich im Jahre 1978 aber ganz ähnliche Ereignisse zu. Da war es ein Kongressabgeordneter, der das Lager von Sektenführer Jim Jones in Guyana besuchte, doch als diverse Anhänger die Gemeinde verlassen wollten, wurde die Delegation niedergeschossen und fast alle der über 1000 Mitglieder begingen Selbstmord.
THE SACRAMENT ist einerseits erstaunlich nah an den Fakten, schwächelt aber genau da, wo man sich ein paar inszenatorische Freiheiten gönnt, die zu Fragezeichen und Logiklöchern führen. Auch hier fehlt die Konsequenz der Filmer.
Von den realen Ereignissen mal ganz abgesehen ist THE SACRAMENT fast der gleiche Film wie APOCALYPTIC. Da beide etwa zeitgleich entstanden, muss man nicht von einem Plagiat sprechen, die Parallelen sind dennoch offensichtlich: Found Footage; Reporterteam besucht Sekte, die in den Wäldern wohnt; lernt einen charismatischen Anführer kennen und entdeckt Geheimnisse; alles endet im Massenselbstmord.
Zunächst hätte es sich daher angeboten THE SACRAMENT mit der gleichen Punktzahl zu versehen wie APOCALYPTIC (7 Punkte), letzterer ist aber trotz Mini-Budget in sich stimmiger.
Facebook Comments