Viele Horrorfans lieben sie: Filme, die auf Tatsachen beruhen. Und weil Produzenten das wissen, ist das Siegel "Nach einer wahren Begebenheit" oder neudeutsch "Based on a true story" bares Geld wert.
Fakt ist, dass jede Idee irgendwo entspringt, sei es aus persönlichen Ereignissen, den Nachrichten oder dem Serienmörderlexikon, der fertige Film deswegen aber nicht zwingend nahe an der Realität sein muss.
Wir haben uns einige interessante Fälle angesehen und auf ihren Wahrheitsgehalt geprüft.
---
Alle drei Filme beruhen auf dem Fall des Mörders und Grabschänders Ed Gein, der in den 50er Jahren in Wisconsin aktiv war und sich aus den Überresten seiner Opfer Trophäen und Kleidungsstücke bastelte.
Theoretisch müssten sich alle drei Filme um einen Motelbetreiber drehen, der Kettensägen und eine gute Lotion liebt. Da dies nicht der Fall ist, wird schon deutlich, dass wir es zwar mit einigen der bedeutendsten Filme der Horrorwelt zu tun haben, aber auch jeweils viel künstlerische Freiheit angewandt wurde.
Gemein haben die Filme das Weiterverarbeiten von Leichenteilen, was Geins Verbrechen nunmal ausmachten. Auch die Charakterzeichnung von Norman Bates ist an Gein angelehnt.
Eine genauere Aufarbeitung von Geins Taten findet sich hingegen im unbekannteren ED GEIN von 2000.
---
DIE MORDE VON SNOWTOWN / HENRY – PORTRAIT OF A SERIAL KILLER / MONSTER / ZODIAC
Die Filme beschreiben das Leben und die Taten von John Bunting, Henry Lee Lucas, Aileen Wuornos und (mutmaßlich) Arthur Leigh Allen. Es handelt sich dabei um Serienmörder.
Der Realitätsgehalt der Filme ist hoch. Nicht nur werden die echten Namen der Personen verwendet, auch darüber hinaus haben sich die Macher bemüht wesentliche Etappen der Täter nachzuvollziehen und nachzuerzählen.
Hierbei handelt es sich natürlich nur um eine kleine Auswahl an bekannteren und besseren Filmen über reale Täter. Inzwischen wurden wohl nahezu alle Biografien der bekannteren Serienmörder verfilmt, darunter Ted Bundy, Jeffrey Dahmer und John Wayne Gacy.
---
Glücklicherweise verspricht Wes Cravens Klassiker nicht, dass etwas auf Tatsachen beruht.
Trotzdem ist es so, dass Craven von einem echten Artikel inspiriert wurde, der von einer Kambodschanischen Flüchtlingsfamilie berichtete, die in die USA geflohen war, deren Sohn aber noch immer von einem widerkehrenden Alptraum geplagt wurde, die sich so echt anfühlten, dass er tagelang versuchte wach zu bleiben und schließlich im Schlaf verstarb.
Aus dieser Grundidee wurde schließlich die Geschichte um Freddy Krueger.
---
DER EXORZIST / DER EXORZISMUS DER EMILY ROSE
Betrachtet man die wahren Hintergründe, die zu diesen Filmen führten, hätte man ebensogut alle paranormalen Zutaten weglassen können, ohne dass das Ergebnis weniger gruselig geworden wäre.
DER EXORZIST beruht auf dem Fall von Roland Doe, DER EXORZISMUS DER EMILY ROSE auf dem der deutschen Anneliese Michel. Während über Doe wenig bekannt ist (auch sein Name wurde von der Kirche geändert), ist Anneliese Michels Fall bekannt. Die junge Frau wuchs in einem streng katholischen Elternhaus auf und starb letztlich an den Folgen der Teufelsaustreibungen.
Beide Filme haben zwar ihre Vorbilder, vermutlich hätte man diese aber auch gegeneinander austauschen können und wäre zum gleichen Ergebnis gekommen. Allzu genau nehmen es die Werke mit der Wahrheit nämlich nicht.
Wer es gerne wahrheitsgemäßer mag, sollte sich den deutschen Film REQUIEM ansehen. Zwar wurden hier die Namen ebenfalls geändert und der Film ist nicht dem Horror- sondern dem Drama-Genre zuzuordnen, dafür erscheint das Ganze realitätsnahe.
---
Das Amityville-Spukhaus ist nicht nur wegen einer Vielzahl der dort stattfindenden Filme immer wieder zu sehen (inkl. Remake zählen 13 Filme zur eigentlichen Reihe, CONJURING 2 spielte ebenfalls teilweise dort), es ist auch immer mal wieder davon zu lesen, dass das Haus verkauft wird. Es existiert also tatsächlich und vor einigen Jahrzehnten, lebte darin auch die Familie Lutz, die wir aus den Filmen kennen.
Die hat das Haus anscheinend wirklich Hals über Kopf verlassen, wie es auch die Filme zeigen, der Wahrheitsgehalt ist hingegen fraglich und bis heute wird den Lutz unterstellt Profit aus der Story schlagen zu wollen.
Was wiederum unbestritten ist, ist die blutige Vorgeschichte des Hauses, denn dort ereignete sich schon vor dem Einzug der Lutz' eine Bluttat, die sechs Todesopfer forderte.
---
Wie schon im letzten Absatz erwähnt, greift auch THE CONJURING 2 den Amityville-Horror auf und die CONJURING-Filme beschäftigen sich natürlich mit dem Ehepaar Ed und Lorraine Warren, die es wirklich gibt und die sich einen Namen als Experten für das Paranormale machten.
Für James Wan und Leigh Whannel, den beiden kreativen Köpfen hinter CONJURING bieten die Warrens natürlich ein gefundenes Fressen, da echte Geisterjagd aber mitunter öde ist, musste das Ganze gewaltig aufgepeppt werden.
Bestes Beispiel ist vielleicht die Puppe Annabelle, die selbst ihre beiden Spin-Off-Filme erhielt und in der Realität deutlich harmloser aussieht als das Spielzeug im Film, das wohl nie auf den Markt gekommen wäre, weil es jedes Kind von Beginn an abschreckt.
Aber auch mit den Warrens nimmt man es in den Filmen nicht so genau. So wurden die beiden von der Familie Perron, bei denen sich die Ereignisse des ersten Films zutrugen, vorzeitig nach Hause geschickt, weil ihre Arbeit die Situation noch verschlimmerte. Wahr ist hingegen, dass die Perrons tatsächlich mit Problemen in ihrem Haus zu kämpfen hatten, die sich nicht eindeutig erklären ließen.
Auch in CONJURING 2 wurden die Fakten verdreht. Den Fall des sogenannten Enfield Poltergeists in England gab es, die Warrens waren aber nur eines von verschiedenen Ermittlerteams, die sich der Sache annahmen und weit weniger involviert, als es der Film darstellt.

---
JACK KETCHUM'S EVIL / AN AMERICAN CRIME
Beide Filme beruhen auf dem unfassbaren Fall der Sylvia Likens, die zusammen mit ihrer Schwester bei einer Pflegefamilie untergebracht war und dort systematisch von der Ziehmutter und deren leiblichen Kindern aufs Brutalste misshandelt wurde.
Während AN AMERICAN CRIME sich nah an den Originalfall hält und auch die realen Namen verwendet, erlaubt sich JACK KETCHUMS EVIL etwas mehr Freiheiten, ohne sich jedoch allzu weit von dem wahren Fall zu entfernen. Hier wird die Geschichte allerdings aus der Sicht eines Nachbarjungen erzählt, der lange stummer Zeuge bleibt und sich dadurch mitschuldig macht.
---
Die Geschichte des Paares, das nach einem Tauchgang einfach vergessen wird und tagelang im Wasser treibt klingt so erschreckend realistisch, weil sie wahr sein könnte.
Zumindest basiert der Film lose auf dem Fall von Tom und Eileen Lonergan, die 1998 von ihrem Tauchboot zurückgelassen wurden. Erst zwei Tage später wurde ihr Verschwinden bemerkt, die beiden wurden nie gefunden.
Da also niemand weiß, was mit ihnen geschah, ist das was der Film uns zeigt, nur eine denkbare Interpretation der Ereignisse.
---
ILS / THEM
Wie OPEN WATER ist auch ILS oder THEM ein Film, der simpel und roh genug ist, dass er wahr sein könnte. Angeblich beruht er auf einem realen Fall eines österreichischen Paares, das in Tschechien von drei Jugendlichen ermordet wurde (im Film ist es ein französisches Paar, das in Rumänien lebt).
Wer aber nach Details sucht, wird Probleme bekommen diese zu finden.

---
THE STRANGERS
THE STRANGERS ist ein weiterer Home Invasion – Film und auch dieser fühlt sich real an. Unklar ist hingegen, auf welchen Fall sich Autor/Regisseur Bryan Bertino bezieht. Teilweise wird unterstellt, dass er die Morde der Manson-Family als Vorlage nahm, auch die sogenannten "Keddie Morde", bei denen vier Menschen in ihrem Haus umkamen, werden dem Film zugeordnet.
Bertino selbst erzählte einmal von seiner Kindheit, als er mit seiner Schwester alleine Zuhause war und unbekannte an der Tür klingelten. Hier handelte es sich offenbar um eine Diebesbande, die prüfen wollte, ob jemand daheim ist. Während das zweifelslos unheimlich klingt, gab es keine Morde oder Masken.
Man kann THE STRANGERS also unterstellen, dass er zwar durchaus von mehreren realen Ereignissen beeinflusst wurde, aber das kann wohl auch über jeden anderen Home Invasion – Film gesagt werden.

---
DER BLOB
Egal ob der Film von 1958 oder die Neuverfilmung von `88, an wahre Begebenheiten würde bei DER BLOB zunächst niemand denken.
Es ist wohl auch auszuschließen, dass ein intergelaktischer Schleimball dutzende Menschen verschlingt, ohne dass das zur großen Sache wird, offenbar gab es Anfang der 50er Jahre aber tatsächlich einen Zwischenfall in Philadelphia, wo einige Polizisten auf eine schleimige Masse unbekannter Herkunft stießen, die violett war und pulsierte. Als sie einer der Männer anfasste, wurde er aber nicht gefressen, stattdessen löste sich die Substanz in seiner Hand auf.
---
THE POSSESSION
Als Ole Bornedals THE POSSESSION vor einigen Jahren auf dem Fantasy Filmfest lief und im Vorspann mit den bekannten Worten "based on a true story" aufwartete, erntete der Film herzliche Lacher im Publikum.
Da man die Dummheit der Menschen nicht unterschätzen sollte, gibt es vermutlich irgendwo auf der Welt jemanden, der glaubt, dass Flohmarktkäufe darin resultieren, dass Kinder am Rad drehen, Dämonen aus ihren Kehlen kriechen und jüdische Exorzismen mit viel Wind notwendig sind, um die Sache zu stoppen.
Tatsächlich beschränkt sich der Wahrheitsgehalt darauf, dass vor einigen Jahren jemand eine Weinkiste auf ebay kaufte, die seltsam roch. In der Folge öffneten sich im Haus einige Türen selbständig und die Mutter des Käufers erlitt einen Schlaganfall.
---
FEUER AM HIMMEL
FEUER AM HIMMEL wird erst in zum Ende hin zum Horrorfilm und das ist auch der Moment wo man als Zuschauer nicht mehr weiß, wo Realität und wo Fiktion greifen.
Der Film beschäftigt sich mit dem Verschwinden des Waldarbeiters Travis Walton, der vor den Augen seiner Kollegen in ein unbekanntes Flugobjekt gezogen wird. Natürlich glaubt den Männern niemand. Nach 5 Tagen taucht Travis wieder auf, nackt und verstört, und erzählt seine Sicht der Dinge. Demzufolge wurde er von Außerirdischen entführt, die Experimente an ihm vornahmen.
Ob Travis und die Kollegen lügen, kann und will auch der Film nicht klären, es ist aber zu bemerken, dass man sich hier mit den realen Ereignissen auseinandersetzt, die sich 1975 in einer Kleinstadt in Arizona ereigneten.

---
WOLF CREEK
Ein weiterer Serienmörderfilm, der wahre Begebenheiten für sich beansprucht. Es gab allerdings nie einen Killer namens Mick Taylor. Inspiriert wurde der Film stattdessen von den Taten Bradley John Murdoch und Ivan Milat. Beide ermordeten Reisende in Australien, jedoch unabhängig voneinander.
Wie nicht anders zu erwarten ist WOLF CREEK keine detailgetreue Aufbereitung von Fakten, sondern nimmt sich diverse Freiheiten.

---
Sowohl der Film von 1976 als auch das 2014er-Werk, der eine Mischung aus Fortsetzung und Remake ist beziehen sich auf eine reale Mordserie, die sich 1946 in der Stadt Texarkana zutrug.
Während schon der ältere Film nur lose Bezug nimmt, gönnt sich WARTE, BIS ES DUNKEL WIRD noch mehr Freiheiten.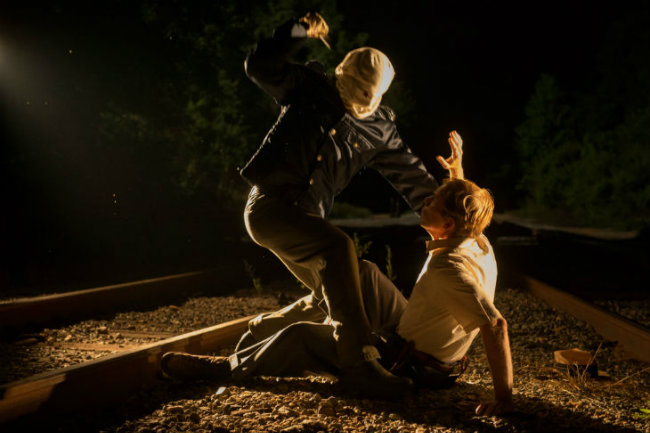 ---
I SPIT ON YOUR GRAVE
Sagen wir es so, die Hälfte des Films ist real, die andere eine Art Wunschdenken.
Der Regisseur/Autor des Originalfilms Meir Zarchi fand tatsächlich eine Frau, die brutal vergewaltigt wurde und brachte sie zur Polizei. Dort war er schockiert, wie unfair die Frau behandelt wurde und kam dabei wohl zu dem Entschluss, dass man den Behörden nicht trauen könne, wenn man Gerechtigkeit will, was ihn wiederum veranlasste, dass das Opfer in seinem Film zur Selbstjustiz überging.
Facebook Comments