Seit Anbeginn der Zeit hat Venezuela gerade einmal fünf Horrorfilme produziert und veröffentlicht (Quelle: imdb). Damit sind die Südamerikaner nicht gerade eine Filmnation und die anderen 4 Filme nicht gerade Kultfilme. Für viele wird mit der Sichtung von THE HOUSE AT THE END OF TIME ein weiterer weißer Fleck von der Landkarte verschwinden und alleine das sollte neugierig machen.
Inhalt: Vor 30 Jahren wurde Dulce an dem Mord an ihrem Mann und ihres Sohns verurteilt. Nun darf die inzwischen alte Frau das Gefängnis verlassen und unter Bewachung in ihr Haus zurückkehren. Sie weiß noch immer nicht, was vor all den Jahren vorgefallen ist und die Vergangenheit greift schnell nach ihr. Noch immer geht in dem Haus etwas vor, das Dulce aufhalten muss.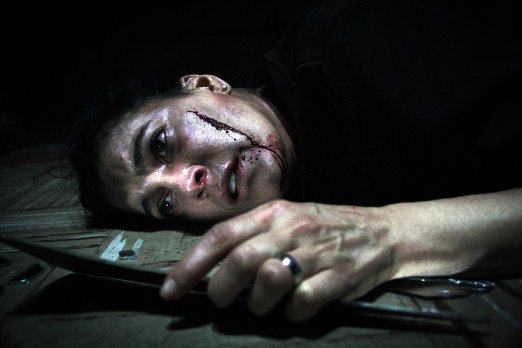 Es gibt inzwischen unzählige Horrorstreifen, die mit THE HOUSE AT… oder ähnlichen Titelfragmenten jonglieren und die inhaltliche Spannweite reicht von Rape & Revenge (der Klassiker THE LAST HOUSE ON THE LEFT) bis mittelmäßigen Grusel (THE HOUSE AT THE END OF THE STREET) und THE HOUSE AT THE END OF TIME fügt nun einen weiteren Aspekt hinzu. Der Titel ist dabei nicht der einzige Spoiler, denn wer genau hinsieht, wird auch in der ersten halben Stunde des Films, die mehr Fragen als Antworten bietet, feststellen, dass Zeit ein wiederkehrendes Thema ist.
Nein, es gibt keinen Delorean und keinen Typen namens Marty, aber eine Story, die cleverer ist, als sich zunächst erwarten lässt.
Eingangs fällt nämlich vor allem ins Auge, dass Kulissen und Masken mit mäßigem Aufwand erstellt wurden. Es ist wohl für jeden Maskenbildner eine Herausforderung eine Person 30 Jahre altern zu lassen, aber Dulce sieht als ca. 70jährige einfach aus wie eine 40jährige mit grauen Augenbrauen.
Dazu kommen Fragen praktischer Natur: das Haus, um das es geht, war bereits vor Dulces Haftantritt renovierungsbedürftig, scheint aber viele Jahre später in keinem schlechteren Zustand zu sein. Vermutlich hätte sich in der Zwischenzeit auch ein neuer Käufer gefunden und dass der Staat Venezuela zwei Polizisten abstellt, die 24 Stunden am Tag vor der Tür einer Rentnerin wachen, kann man glauben, muss es aber nicht.
THE HOUSE AT THE END OF TIME kommt also nicht ohne Schwächen daher, was sicher mit der Unerfahrenheit von Alejandro Hidalgo zusammenhängt, der für Regie, Buch, Produktion und Schnitt verantwortlich und in allen Belangen Debütant ist.
Allerdings schafft der Mann es auch eine Geschichte zu verkaufen, die erst mal nach bewährtem Haunted House – Grusel aussieht, aber letztlich noch eine zusätzliche Komponente erhält, was die Angelegenheit aufwertet.
Dass die Erzählweise einen eigenwilligen Rhythmus mitbringt, mag venezolanische Eigenheit sein oder wiederum am Regisseur liegen, es ist aber zumindest ungewohnt, dass viel Zeit damit verbracht wird Dolces Söhne beim Spielen zu zeigen, was sogar mit betont komödienhafter Musik unterlegt ist.
Letztlich ist auch diese Intention am Ende erkennbar und es entsteht ein eigener Charme, aber manche Schraube hätte man sicher noch anziehen können.
Fazit: Ich wäre nicht überrascht eines Tages ein Remake von THE HOUSE AT THE END OF TIME zu sehen, Potential wäre da. Bis dahin kann man sich aber auch die vorhandene Version mit Ecken und Kanten gut ansehen.
Facebook Comments