Wir reden jeden Tag über Filme, gute und mittelmäßige, sowie schlechte. Jetzt und hier geht es einmal nur um Serien, und zwar um die besten Horror – und Thrillerserien die Netflix für uns im Angebot hat.
So breit wie das Genre gefächert ist, sind auch die Serien sehr verschieden, aber jede für sich ist ohne Zweifel sehenswert.
---
LOVE, DEATH & ROBOTS
Staffel 1: In 18 animierten Kurzgeschichten unterschiedlicher Genres, werden Liebe, Tod und Roboter beleuchtet. Auch wenn jede Folge für sich speziell ist, wird ein Horrorfan daran Gefallen finden. Die teils brutalen, pikanten und blutigen Storys sind nicht zu unterschätzen.

---
Staffel 1: Nach dem Selbstmord von Michael Kahnwald, in der deutschen Kleinstadt Winden, wird ein Brief gefunden. Der Verfasser war Michael selbst. Der Hinweis, ihn nicht vor dem 4. November um 22:13 Uhr zu öffnen, wirft Fragen auf.
Staffel 2: Die Zeitzonen Kreuzen sich und geben neue Antworten auf Fragen, die die erste Staffel aufwarf.
---
PENNY DREADFUL
Staffel 1: In PENNY DREADFUL treffen wir auf bekannte Charaktere aus der Literatur und die Story spielt im viktorianischen London. Unter anderem dabei sind Dr. Frankenstein und seine Kreatur, Dorian Gray und Figuren aus Dracula.
Staffel 2: Die Geschichte der bekannten Figuren wird fortgeführt. Erneut wird sich im viktorianischen London mit übernatürlichen Kräften rumgeschlagen und diese müssen bezwungen werden.
Staffel 3: Durch die Qualen der vergangenen Staffeln ist Vanessa Ives psychisch am Ende. Hilfesuchend wendet sie sich an die Psychologin Dr. Seward. Eine Lösung für Vanessas Alpträume scheint gefunden, nur für wie lange?

---
SPUK IN HILL HOUSE
Staffel: 1 Hugh und Oliva ziehen in den 80er Jahren in ein altes Haus, welches sie sanieren um es später verkaufen zu können. Die Kinder des Paares genießen den Platz um vergnügt spielen zu können. Schnell wird aber klar, dass in diesem Haus etwas Merkwürdiges vor sich geht.
Staffel: 2 THE HAUNTING OF BLY MANOR wird 2020 erscheinen.
---
CHILLING ADVENTURES OF SABRINA
Staffel 1: Der 16. Geburtstag der Halbhexe Sabrina Spellman steht bevor. An diesem Tag muss sie sich entscheiden wie sie künftig leben will, als Hexe oder Mensch. Die satanische Taufe rückt näher.
Staffel 2: In der Akademie der unsichtbaren Künste werden Wettkämpfe ausgetragen. Sabrina und ihr Freund treten gegeneinander an. Gestört wird das Kräftemessen von drei Höllendämonen.
Staffel 3: ( Startet am 24. Januar ) Umgeben von Geheimnissen und Dämonen, realen und übernatürlichen, muss sich Sabrina ihren Weg bahnen. In der dritten Staffel muss sie in die Hölle hinab steigen.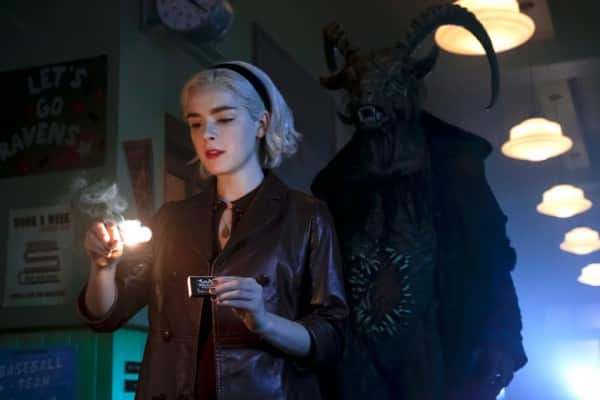 ---
Staffel 1: James hält sich selbst für einen Psychopathen und plant den ersten Mord an einem Menschen, nachdem er bereits an Tieren geübt hat. Da kommt es gerade Recht, dass die neue Mitschülerin Alyssa ihn anspricht. Ehe man sich versieht sind die beiden auf einem Roadtrip: Alyssa plant ihren Vater zu finden, James plant Alyssa bei der erstbesten Gelegenheit umzubringen. Was kann schon schiefgehen?
Staffel 2: Zwei Jahre nach den Geschehnissen der ersten Staffel kann James wieder laufen. Eine Reihe von Geheimnissen werden gelüftet und neue, tödliche Gefahren türmen sich auf.
---
Staffel 1: Sheila und Joel leben zusammen mit ihrer Tochter Abby ein idyllisches Leben im sonnigen Kalifornien. Das wohlbehütete Leben wird auf den Kopf gestellt, als Sheila sich in einen Zombie verwandelt. Sie kann zwar weiterhin reden und sieht auch normal aus, aber ihr großer Appetit auf Menschenfleisch führt doch zu einigen Problemen.
Staffel 2: Sheilas Körper droht langsam aber sicher auseinander zu fallen. Ihr idyllisches Kleinstadtleben möchte sie dennoch nicht aufgeben. Während ihre Tochter und ihr Mann weiter versuchen, ein Mittel zu finden, welches den Zerfall aufhält, muss Sheila sich in Beherrschung üben.
Staffel 3: Heilung in Sicht? Joel und seine Zombiefrau versuchen zu ergründen, wo der Ursprung in Sheilas Verwandlung zu finden ist. Ihr Weg führt sie nach Serbien.
---
Staffel 1: In einer fiktiven Stadt in den 80ern verschwindet ein Junge. Die Freunde von Will suchen ihn, finden stattdessen aber ein Mädchen, das telekinetische Fähigkeiten zu haben scheint. Während die Suche nach Will weitergeht wird klar, dass hier dunkle Mächte ihre Finger mit im Spiel haben.
Staffel 2: Nachdem Will Byers zurückgekehrt ist, kehrt augenscheinlich Frieden in der Kleinstadt Hawkins ein.
Auch in der Geschichte ist etwa ein Jahr vergangen und Eleven, das Mädchen mit den besonderen Fähigkeiten, bleibt ebenso verschwunden wie Barb. Während das Leben an der Oberfläche weitergeht, haben alle Beteiligten noch immer mit den Auswirkungen der Ereignisse zu kämpfen.
Staffel 3: Während die Clique sich etwas voneinander löst, macht sich erneut das Böse in dem kleinen Städtchen Hawkins breit. Um eine erneute Attacke aus der Anderswelt abzuwehren, müssen die leicht auseinander gedrifteten Freund*innen wieder zusammenfinden und sich gemeinsam dem Gegner stellen.
Kaum ein Vierteljahr nachdem Staffel 3 die Zuschauer verzückte, kommen nun erfreulich schnell neue Nachrichten über den Drehstart von Staffel 4. In den Hauptrollen werden wir wieder auf den bekannten Cast treffen.
---
Staffel 1: Der alternde Detective Ambrose wird in Fälle hineingezogen, die auf den ersten Blick klar zu sein scheinen und am Ende doch alles ganz anders ist als vermutet. Die erste Staffel befasst sich mit einer jungen Frau, die urplötzlich einen Mord begeht.
Staffel 2: Es soll ein grausamer Doppelmord aufgeklärt werden. Der 13-jähriger Junge namens Julian (Elisha Henig) soll ihn begangen haben. Altbekanntes Problem: Der Junge hat angeblich ohne jegliches Motiv seine Eltern in einem Hotelzimmer ermordet.
---
Staffel 1: Zwei Agenten des FBI beginnen Menschen zu interviewen, die grausame Morde begangen haben. Sie wollen verstehen, was Menschen zu derartigen Taten bringt und prägen dabei quasi nebenbei den Begriff des Serienmörders.
Staffel 2: Mit einem allmählich wachsenden Team reisen die beiden Agenten durchs Land und interviewen Serienmörder. Gezeigt werden aufschlussreiche Gespräche mit bereits inhaftierten Mördern.
---
Staffel 1: Der jugendliche Norman Bates (bekannt aus Hitchcocks PSYCHO) zieht mit seiner Mutter in ein Motel, dass sie übernommen haben. Schon bald wird deutlich, dass Norman eine düstere Seite in sich trägt und die Geschehnisse im Motel führen nicht dazu, dass er sie unter Kontrolle behalten kann.
In den Staffeln drei und vier ist Norman Bates ein Stück älter geworden und in seinem Fall bedeutet das nichts Gutes.
---
Jede der Staffeln erzählt ihre ganz eigene Horrorgeschichte. Von einem Haus voller Geister, über einen Hexenkult bis hin zu einem verfluchten Hotel ist alles dabei und bietet viel Abwechslung.
---
Staffel 1: Im New York des späten 19. Jahrhunderts werden die Leichen von Jungs gefunden. Der Psychologe Kreiszler versucht mit seinem Team den Ermittlungen der Polizei zu helfen und stößt dabei auf tiefe Abgründe aus Korruption und Bösartikgkeit.
---
Staffel 1: Unter einem faschistischen Regime in Indien wird ein politischer Häftling in ein Gefängnis gebracht. Kurz nach seiner Ankunft passieren unheimliche und unerklärliche Dinge. Die junge Nida ist mittem im Geschehen, als im sogenannten Verhörzentrum die Hölle über alle Anwesenden hereinbricht.
---
Staffel 1: Der junge Buchhändler Joe verliebt sich in eine seiner Kundinnen und beginnt sie zu stalken. Schnell stellt sich heraus, dass er alles tun würde, um in ihrer Nähe zu sein.
Staffel 2: Wir erleben wie Joe in einer neuen Stadt, mit neuer Identität, neue Frauen sucht. Er hat erneut seinen Charme spielen lassen und eine ahnungslose Dame in seine Fänge gelockt.
Wie lange er seine psychopathische Seite verbergen kann, bleibt abzuwarten, denn er wird ebenso beobachtet.
---
SAFE
Staffel 1: Als die Tochter vom alleinerziehenden Arzt Tom nach einem Abend mit Freunden nicht wieder Nachhause kommt, beginnt die fieberhafte Suche nach ihr. Während der Suche kommt ans Licht, dass einige Personen in der angeblich sicheren Nachbarschaft dunkle Geheimnisse haben.
Facebook Comments